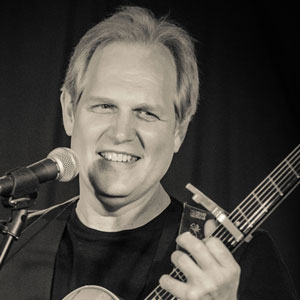 Greg Greenway, a singer-songwriter and folk-rocker whose songs take on a social conscious, returns as a soloist to Mansfield's Rose Garden Coffeehouse at 8 p.m., Saturday, Sept. 15, 2018, kicking off its 30th season. Greg, known recently for being one part of the super trio Brother Sun, has relaunched his solo career, and now is taking on some new musical adventures.
I caught up on the phone with Greg recently, since he was one of the Rose Garden's earliest solo acts, to get a feel for what it will be like to have him return. He was last at the Rose Garden with Brother Sun (with Pat Wictor and Joe Jencks) in 2013, and prior to that all the way back to 2003. That's near where our online archive begins, but I remember Greg playing at the Rose Garden before then.
What I remember most about Greg's playing is the power of his message and the strength of his delivery. His songs are memorable. His guitar, piano and ukulele playing are always melodic, percussive and meaningful. Greg brings the audience into the song and keeps you there.
I sent Greg a few questions to answer as he prepares his return. His responses are below. Come to Saturday's show. He'll give you even better answers. You don't want to miss this one. read more…