VIDEOS: Aoife Clancy to perform in Marblehead this Friday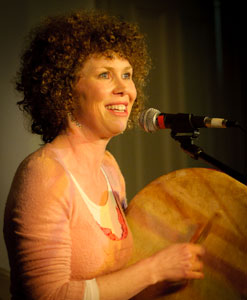 Aoife Clancy (pronounced Eefa) performs in Marblehead, Mass. at the Me & Thee Coffeehouse this Friday, Feb. 25, 2011 with her cousin Robbie O'Connell of Franklin. Kathy Sands-Boehmer of the Me & Thee Coffeehouse conducted a quick Q&A with her recently. Interspersed are some photos and videos from her recent show at the Rose Garden Coffeehouse in Mansfield:
Talk about musical pedigree. That's Aoife Clancy. There have been musical notes surging throughout her entire being since birth due to her family's outstanding legacy and con­tribution to Irish music and culture.
As journalist Scott Alarik relates, "Whether she's delivering an ancient Irish ballad, an American folk classic, or an urgent contemporary song, Aoife sings with the same gorgeous naturalism as if she were experiencing the emotions in the songs for the first time." Find out more about Aoife's fascinating life on her website. Check out this video of Aoife performing at a recent concert:
You've performed in many musical configura­tions during your career. Do you have any highlights when playing with your father, Bobby Clancy and your uncles?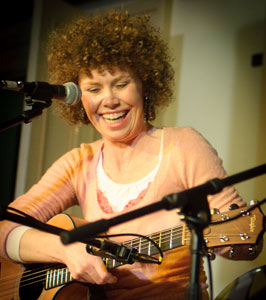 The memories that stand out most in my mind playing with my father are, when I was growing up in Ireland and he used to bring me out to these small country pubs . . . some of them didn't even have electricity! And it was a very intimate setting with only a few local old timers present. And my father would stand up (usually with a glass of beer in his hand!) and recite Yeats or sing some old ballad with everyone joining in on the chorus. Those are the most memorable times performing with him for me. The other time is at Milwaukee Irish festival with my father, Eddie Dillon, my brother Finbarr along with my uncles and Robbie O'Connell. That was fun sharing the stage with them all. And the other times were just family gatherings at our house with both sides of the family sharing songs and stories etc and those times were great nights. I miss those days a lot, but I DO have the lovely memories and I'm grateful for them.
What was it like being part of Cherish the Ladies? How long were you part of that group?
I loved being a part of Cherish the Ladies. I learned a lot about performing growing up with my father but I really got my feet wet performing with Cherish. We did some amazing gigs over the six years I performed with them. We got to play with the Boston Pops and recorded a Grammy nominated CD with them! We also toured a lot and got to travel all over the world — my favorite place being Argentina — that was some experience. Loved it!
What was it like working with the Boston Pops?
Playing with the Boston Pops was a once in a lifetime experience. It was nerve wracking but I'll never forget that wonderful feeling/experience of watching the girls do a traditional number with the Pops as I watched on the TV monitor back stage. It gave me goosebumps! I got a chance to perform with the Pops as a soloist years later and that was also amazing. Would love to do it again sometime . . . if anyone from the Pops is reading this!!
If you were not a musician, do you have any inkling as to what you would be doing?
To be honest I can't imagine doing anything else?! . . . I have studied acting and have also worked as an actress from time to time, but that's my other love. I recently started teaching kids a music/movement program in Mattapoisett close to where I live and also down the Cape and I'm enjoying that a lot. I LOVE working with kids.
Do you have any big dreams or goals that you have not yet accomplished?
Do I have any dreams or goals that I haven't accomplished? . . . Well, who hasn't? I would love to seriously settle down and start writing more of my own material. I've made attempts in the past but that is one thing I would love to accomplish. I have lots of melodies but still working on the lyric thing. it's coming. . . . I just have to be patient! I just started working with two other women in a band called "The Jammin Diva's" and they both write so it's kind of given me the push I need to get up off my butt and write some songs once and for all!