VIDEO & AUDIO: Southern Rail, top-notch bluegrass, in Mansfield on Saturday, April 9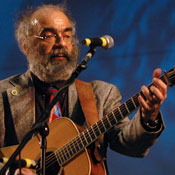 The New England bluegrass band Southern Rail will bring its brand of traditional and top-flight style bluegrass to Mansfield's Rose Garden Coffeehouse on Saturday, April 9, 2011. The coffeehouse, which has always leaned toward singer-songwriters and folk music, traditionally has brought in a bluegrass group each year. For most of the coffeehouse's 20+ years, that group was Northern Lights, which broke up last year. Southern Rail, a veteran group of three decades, has an exuberant, refined sound, one that focuses on warm harmonies, original and traditional songs, plenty of gospel and cutting-edge performances. It's about time they performed at the Rose Garden, in my opinion.
I first saw Southern Rail many years ago, both at smaller clubs and at many bigger venues like the Strawberry Park Bluegrass Festival, First Night Boston or last summer on the main stage of Connecticut's Podunk Bluegrass Festival. They have been a staple of the New England bluegrass scene, producing some 11 albums, the most recent called "On the Road From Appomattox." They are a group rooted in the traditions of the genre, while always bringing something fresh to the stage.
Several videos from the 2010 Podunk Festival:

Anyone who has ever seen Southern Rail knows that they will come away singing the songs and smiling after being completely entertained. Their songs vary from the classic fast-paced bluegrass instrumentals, like Bill Monroe's "Rawhide," to ballads like Hazel Dickens' "Coal Tattoo," love songs like "I Didn't Ask," with its heartfelt personal sentiments, to many four-part gospel melodies.
At its core are the band's founders, the Watertown, Mass., husband-wife team of Jim Muller and Sharon Horovitch. Jim, a native of Richmond, Va., has played guitar more than 40 years, sings lead and has penned several of the group's songs. Sharon, originally from Montreal, adds tenor and high-baritone harmonies and plays the upright bass with a ferocious slap-style and a smile that is a joy to watch.
Here are more song clips from the band:

Joining them are Canadian native John Roc, who sings and plays hot licks on mandolin (among other instruments), and Scruggs-style banjo champion Rich Stillman, who has performed in several other bands, including Jersey Travelers, WayStation, and Adam Dewey and Crazy Creek, and has taught banjo for the Boston Bluegrass Union and elsewhere.
For more info about the show, check out the Rose Garden website.