VIDEO: New Hampshire songwriter, author gets personal about war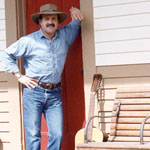 Laconia's Jack Polidoro ("The Good Dr. Jack") has written many beautiful songs over the past couple of decades, but his most recent one comes straight from the heart. He wrote "Goin' Off to War – A Father's Lament" for his son who is now serving overseas in Oman with the US Navy. Jack just finished penning the song this past fall and recently finished recording it at Rocking Horse Studios in New Hampshire with some fellow pro musicians.

His song expresses the concern and pride members of any military family feel when one of their own is placed in harm's way. Jack's son graduated from the Naval Academy in Annapolis and had been working in the U.S. Pentagon until his recent deployment.
I met Dr. Jack (he earned his Ph.D. in veterinary and animal sciences at UMass – go figure) many years ago when we both showed up for an open mic at the sadly departed Old Vienna Kaffehaus in Westborough, MA. I thought his voice and songs sounded amazingly like Gordon Lightfoot (one of my personal idols) and told him so. Seems he had been (and still is) a long-standing friend of Lightfoot's, and Jack and I have subsequently attended many Lightfoot concerts together and spent some backstage time with the man. If you listen carefully, you can certainly hear the Lightfoot influence in "Goin Off to War – A Father's Lament."
Last week, Jack asked me if I would attempt to put together a video for his song that represented the emotions he felt in writing it. A tall order, but the work has nonetheless been completed and is linked here for you.
By the way, Dr. Jack also is a prolific writer of novels and his writing can be found at www.longtailpublishing.com.