VIDEOS: Antje Duvekot warms hearts on a snowy evening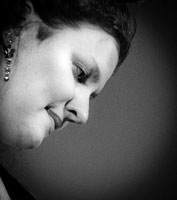 While some other coffeehouses canceled their shows Saturday night as snow fell through the day, Antje Duvekot responded defiantly "Snow schmoe!" The show went on at Mansfield's Rose Garden Coffeehouse, as the Lincoln, Mass., singer-songwriter was met by some 175 intrepid fans.
Duvekot was impressed by the fortitude of her snow travelers and didn't disappoint. She began with several songs from her new CD, "New Siberia," including the title track, "Into the City," and some personal numbers about her growing-up years, like "Juliet" and "Glamorous Girls."
She delved into a variety of covers, like Alison Krauss's "The Lucky One," Richard Thomson's "Beeswing," a rendition of Nickel Creek's "The Fox" and Woody Guthrie's "Deportee," played on ukulele. And she played standards like "Dandelion," "Long Way," "Dublin Boys" and the pensive "Jerusalem" on keyboards.
Duvekot was self-effacing and delightfully human, accidentally knocking over her guitar, not bothering to pick it up since it was already down. Although there was an instrument stand, Duvekot had many instruments to manipulate besides her guitar, as she alternated between playing octave mandolin, ukulele, harmonicas and a PorchBoard floor bass, which she used in several songs.
She shared with the audience that she had just gotten engaged. And, in preludes to songs, she related her struggles learning English, as a German girl who came to America when she was 13, and about an ill-fated trip touring England.