VIDEO: Award-winning film a cut above the rest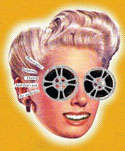 I was tweeted a link to this wonderful short Matt Morris film that I thought everyone would enjoy. It combines the feel of Mayberry with the bluegrass music embedded in North Carolina culture. "Pickin' & Trimmin'" was an Emmy® nominee, and an official selection of over 60 film festivals, along with the Best Documentary Short Film winner at the Florida Film Festival and Woodstock Film Festival. This film has been out there for 3 months. But it's new to me. 

Pickin' & Trimmin' from Matt Morris Films on Vimeo.