Remembrance: Earl Scruggs defined the bluegrass sound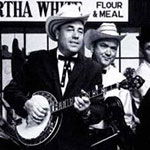 The bluegrass world lost a pioneer yesterday. Earl Eugene Scruggs, known for his distinctive syncopated, three-finger picking style on the five string banjo, popularized its sound. When people think of the sound of the banjo, most people think of the fast-paced rhythms and drive developed by Scruggs. His playing changed the sound of American country and bluegrass music. Born in North Carolina in 1924, Scruggs died of natural causes yesterday, March 28, 2012, at 88.
Though I had never spoken with Scruggs, I knew his music. From his "Foggy Mountain Breakdown" (from the film "Bonnie & Clyde") and "Flint Hill Special" to his most-popular "Ballad of Jed Clampett," performed with his partner-guitarist Lester Flatt for "The Beverly Hillbillies" TV show, his music brought the banjo to the forefront of bluegrass. Hired to fill in on banjo in late 1945, he provided the drive to Bill Monroe's creation of bluegrass music. If Monroe, who died in 1996, was known as the Father of Bluegrass Music, it's fair to call Scruggs the Father of Bluegrass Banjo. He provided the memorable bluegrass sound that most people know, setting the groundwork for traditional players and inspiring even progressive performers like Bela Fleck and Tony Trischka today.
"Scruggs-style" banjo picking is now the standard. What made Earl's sound different was his syncopated three-finger picking, which was punchy and raw and explosive compared with the more strummed, two-finger clawhammer styles that preceded it. People hearing bluegrass banjo for the first time know it as the standard sound of the banjo. But Earl brought it to the Grand Ole Opry stage in 1945. It was new and exciting then, and it still is.
Join the conversation on Facebook, where like-minded fans are remembering Earl Scruggs.
FolkBluegrass page  |  Earl Scruggs' page  |  Flatt & Scruggs page  |  Scruggs Center
Like many performers in Monroe's Blue Grass Boys, Flatt & Scruggs moved on from the band in short order. They ventured out on their own in 1948, having already carved their niche sound as they performed with their new band the Foggy Mountain Boys. Later, through the folk revival of the 60s, Scruggs' popularity grew, influencing a younger crowd that included Bob Dylan, Joan Baez and a hippie culture that appreciated the roots of old-time country music and the twist that Scruggs brought to it.
Read Steve Martin's marvelous article about Earl in The New Yorker
Listen to an interview with Earl on NPR's Fresh Air program in 2003
NPR: All Things Considered: Earl Scruggs on Country Music, and His Role in It
Aside from on video, I had only seen Scruggs a few times. I first saw him in 2004 at the Grey Fox Bluegrass Festival. He came on late in the afternoon just as a rain storm bore down on an appreciative crowd. But as the driving rains came, Scruggs was shuffled backstage. Quick thinking stage hands miked the backstage area. The crowd couldn't see him. But Scruggs knew people had come to hear him play. So he played, hidden from view, until the rains abated. Many in the audience had weathered the storm. And Scruggs eventually finished the show and received his well-earned standing ovation.
"Dr. Banjo," Pete Wernick, who teaches and performs with the band Hot Rize, wrote his remembrances for the upcoming issue of Bluegrass Unlimited magazine:
"There is perhaps no musician in history whose way of playing a particular instrument has been more central to the popularity of that instrument, for an extended time, in this case over a half-century. To this day, the standard banjo style used in bluegrass music is generally called simply, "Scruggs style."

"For all his greatness on the banjo, Earl's influence as a bandleader and his expertise as both a 3-finger guitar player and harmony singer were linchpins in the Flatt & Scruggs sound that carried bluegrass far and wide as its preeminent band from 1948-69. The Foggy Mt. Boys' ultra-precise, powerful-yet-relaxed good-humored music and presentation were a reflection of Earl's and Flatt's personalities and musicianship. The recent release of 10 hours of their early 60s TV shows bears witness to the down-to-earth genius and power of that band."
Watch Earl Scruggs on Letterman, along with Wernick and other banjo greats!

Alison Brown, award-winning banjo player, Harvard graduate and co-founder and owner of Compass Records in Nashville, offered a fine remembrance of Earl:
"I wouldn't be a banjo player if it weren't for Earl Scruggs. And if I weren't a banjo player – well, I wouldn't be me. It's funny to put that thought into words but I think it's a testament to the power of the gift that Earl gave us. His was an inescapably beautiful musical voice that was utterly transformative for some of us and, in my case, the siren's call that led me on my own journey of self discovery. For a mere five strings that's no small thing. And to Earl I will be eternally grateful."
Today, the National Endowment of the Arts chairman Rocco Landesman also issued a statement about Scruggs, who was an NEA National Heritage Fellow and recipient of the agency's National Medal of Arts:
"It is with great sadness that I acknowledge the passing of bluegrass banjo player and NEA National Heritage Fellow Earl Scruggs. Scruggs' development of the three-finger style of banjo picking brought the instrument into prominence as an important innovation in bluegrass music. As a member of the Blue Grass Boys, as a leader with Lester Flatt of the Foggy Mountain Boys, and, in later years, with the Earl Scruggs Revue, he became a monumental figure in the development of bluegrass music in this country. We join many others in the bluegrass community and beyond in mourning his death while celebrating his life and lasting legacy."
In 2010, I saw Scruggs another time. This time he was attending the International Bluegrass Music Association's annual awards ceremony. And though Scruggs himself was an award recipient in prior years, he was there to honor his wife and manager, Louise Scruggs, who was being inducted into bluegrass's hall of fame.
Scruggs was a Grammy-award winner, a member of the Country Music Hall of Fame and an inductee in the IBMA Hall of Fame, and his history is well documented. More knowledgeable writers will undoubtedly pen Scrugg's legacy far better than I. Personally, his music touched me because it was always driving, emotive and affecting. It was the voice of bluegrass for me, and I suspect, for many others.
Earl, you will be missed.