VIDEO: Phil Ochs Song Night this Friday in Quincy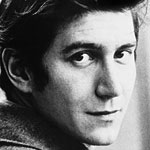 It seems this week is a popular one for important voices in folk music. Peter Yarrow makes an appearance on Saturday night in Franklin, Mass., and at Quincy's Stone Temple Coffeehouse, several acts will perform songs by legendary 60s singer-songwriter and activist Phil Ochs. Och's sister, Sonny Ochs, will host and reminisce about her brother, and the show will feature performances by Magpie, Kim & Reggie Harris, John Flynn and Sonia — a powerpack of folk singers known for their Ochs tributes.
Though Ochs died at 35 in 1976, at his own hands, his music lives on with powerful messages that resonate, especially today. From his war-protest anthems, like "I Ain't Marching Anymore" and "The Draft Dodger Rag" to more personal songs like "Love Me, I'm a Liberal" or "When I'm Gone," Ochs' songs have been performed by other 60s legends like Joan Baez and Bob Dylan. He was known for his Vietnam War protest songs, but he performed at many events, including labor rallies and described himself as a "left social democrat."
There are many tributes to Ochs ensuing that his legacy will live on. The San Francisco Chronicle wrote about Ochs in 2011:
In the early 1960s, there was a folk music rebirth in this country with the likes of Peter, Paul and Mary, Joan Baez, Pete Seeger and Bob Dylan. Although his fame was probably limited, Ochs became an integral part of that crowd. His songs "Draft Dodger Rag" and "I Ain't Marching Anymore" became a rallying cry for the peace movement much the way that Dylan's did.
Proceeds from the concert will support the work of the "Citizens For Town Brook" and the Quincy Environmental Network. Tickets are $20.  A pre-concert chili and salad dinner will be held at 6:30 p.m. for $10. For information, visit the website or call 617-821-4073.