Doc Watson, pioneering guitarist, singer, dies at 89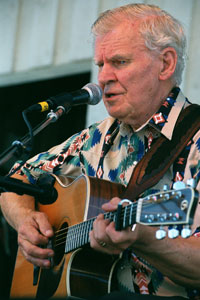 Arthel "Doc" Watson, the pioneering flatpicking guitar player and smooth baritone singer known for his blend of folk, bluegrass country, gospel and more, died Tuesday, May 29, 2012 at Wake Forest Baptist Medical Center in Winston-Salem, N.C. He was 89.
Watson was hospitalized last Monday, May 21, 2012, after a fall at his home in Deep Gap, N.C. He underwent surgery for an impacted colon on Friday and reportedly had rebounded, though he remained in critical condition.
Read the eight-time Grammy winner's obituary in Bluegrass Today, and a thoughtful essay on Doc, by Art Menius, who tells of Doc's influence on the acoustic music world.
Watson also was known for the creation of the enormously popular Merlefest, an annual bluegrass festival held in honor of his son, who died in 1985.
OBITUARY by Mitchell Greenhill of Folklore Productions:
Arthel Lane "Doc" Watson, recipient of the National Medal of Arts, a National Heritage Fellowship, and eight Grammy Awards (including one for Lifetime Achievement) died on Tuesday, May 29 at Wake Forest Baptist Medical Center in Winston-Salem, NC following abdominal surgery last week. He was 89.

Doc Watson was born in Deep Gap, North Carolina on March 3, 1923, into a family already rich in musical tradition. His mother, Annie Watson, sang traditional secular and religious songs, and his father, General Watson, played the banjo, which was Doc's first instrument as well. At age thirteen he taught himself the chords to "When the Roses Bloom in Dixieland" on a borrowed guitar, and his delighted father bought him a $12 Stella. He later picked up some chords from a fellow student at the Raleigh (NC) School for the Blind, and began to incorporate material that he heard on records and the radio with the music of his heritage. Back home he played mostly with neighbors and family, among them fiddler Gaither Carlton, who became his father-in-law when Doc married Rosa Lee Carlton in 1947. They had two children, Eddy Merle (named for two of Doc's idols, country stars Eddy Arnold and Merle Travis) and Nancy Ellen.

In 1953 Doc met Jack Williams, a local piano player, and began to play gigs for money. Doc stayed with Williams' rockabilly/swing band for seven years, a period and a style that he later revisited in the album Docabilly. But he also continued to play acoustic traditional music with his family and with his banjo playing neighbor, Clarence "Tom" Ashley. In 1960, spurred by the growing folk revival, folklorists Ralph Rinzler and Eugene Earle came south to record Ashley, and heard Doc Watson in the process. These sessions resulted in Doc's first recordings, Old-Time Music at Clarence Ashley's.

In 1961 the Friends of Old-Time Music invited Doc, Ashley, Clint Howard and Fred Price to perform at a now-legendary concert in New York City, and one year later Doc gave his first solo performance at Gerde's Folk City in Greenwich Village. From then on, he was a full-time professional, playing a wide range of concerts, clubs, colleges and festivals, including the Newport Folk Festival and Carnegie Hall.

By 1964 he had recorded his eponymous first solo album, and was represented by Folklore Productions, a relationship that continued until his death.

In the late 1960s, Doc was joined on the road by his son Merle, who provided both musical and emotional companionship; with Merle playing guitar and banjo and serving as partner and driver, the father-son team expanded their audience nationwide. After working for a while with the band Frosty Morn, they continued to tour with bassist T. Michael Coleman, and brought their music to Europe, Japan and Africa. A series of remarkable recordings, including collaborations with Flatt & Scruggs, Chet Atkins and the Nitty Gritty Dirt Band, helped make Watson the gold standard among traditional pickers.

Although he briefly stopped performing after Merle died in a 1985 tractor accident, Doc (accompanied by his grandson Richard Watson and guitarist Jack Lawrence soon resumed a full-time recording and touring schedule. He later teamed with banjoist David Holt, and the two shared a Grammy in 2002 for Legacy. In 2003 Doc reunited with Earl Scruggs and mandolinist Ricky Skaggs to film The Three Pickers, telecast on PBS. During his long career he recorded over fifty albums, many of which are still in print today.

Doc was a legendary performer who blended his traditional Appalachian musical roots with bluegrass, country, gospel and blues to create a unique style and an expansive repertoire. He was a powerful singer and a tremendously influential picker who virtually invented the art of playing mountain fiddle tunes on the flattop guitar. In 2011 a life-size statue was unveiled in Boone, NC, on the same spot where decades earlier the young Doc Watson had played for tips to support his family. At his own request the inscription reads "Just One of the People."

Although not a prolific songwriter, Doc and his wife Rosa Lee co-wrote "Your Long Journey," which was featured on the Grammy-winning album "Raising Sand" by Robert Plant and Alison Krauss. It begins:

"God's given us years of happiness here
Now we must part
And as the angels come and call for you
The pains of grief tug at my heart

Oh my darling
Oh my darling
My heart breaks as you take your long journey."

He is survived by his wife of nearly sixty-six years, Rosa Lee Carlton Watson, and their daughter Nancy Ellen, as well as his grandchildren Richard Watson and Karen Watson Norris, several great-grandchildren, and his brother David Watson, not to mention thousands of guitarists worldwide who fell under his spell. As President Bill Clinton said, in awarding the National Medal of Arts, "There may not be a serious, committed baby boomer alive who didn't at some point in his or her youth try to spend a few minutes at least trying to learn to pick a guitar like Doc Watson."

Private funeral arrangements are pending.
I hadn't seen Watson since around 2001, but I had the privilege to interview him in 1995 for The Patriot Ledger. Here is that story, which ran May 11, 1995:
'Doc' Watson still the legendary master of old-time mountain music
By Stephen Ide
The Patriot Ledger
If you head into the hills of North Carolina, you just might hear it. It's a skeletal sound of a lone, flatpicked guitar and a gnarled, high voice pining about a relationship, living a hard life or working the farm.
There's a beauty in that old-time mountain music, blues, bluegrass and gospel as played by guitar wizard Arthel Lane "Doc" Watson.
"It's nostalgia mixed with pleasure and enjoyment," said Watson, 72, a five-time Grammy award winner. "I don't know how to explain that. But that's the way it is. There is a lot of nostalgia in many of the songs. You might pick up the banjo and play something that's kind of happy sounding, but there's a little bit of nostalgic sadness."
Talking with Watson, it's almost inconceivable that the relaxed conversationalist, blind since infancy, can play an acoustic guitar with such speed and fluency.
Jimmie Rodgers, Mississippi John Hurt, Clarence Ashley, Woody Guthrie, A.P. Carter and the Louvin Brothers were songwriters whose music fits easily into Watson's groove. Just the mention of Watson's name today brings the word "legend" to mind, though with the heart and disposition of a Southern gentleman, Watson is apt to offer more humble descriptions.
Watson recently finished an album with a different kind of nostalgia — music from the '50s. The album, called "Docabilly" (Sugar Hill) is one he's wanted to record for years.
"In the '50s I played with a little local group called Jack Williams and the Rail Riders at first, and then we changed the name to Jack Williams and the Country Gentlemen," Watson said. "We didn't do any TV shows or hot records, but we had a lot of fun playin' them. Loved a lot of the '50s music, and I decided two or three different times I wanted to do an album, but it wasn't the right time . . . and there seems to be a lot of interest in the music now. And I decided before Father Time starts messin' too bad with the vocal chords, I'd do a '50s album. And that's what it come to."
The album contains 12 songs with a mixture of country and rock-a-billy, like "Shake, Rattle and Roll," "That's Why I Love You Like I Do" or "Heartbreak Hotel." It includes what Watson calls "sweet songs" like "My Special Angel," "Love is a Lonely Street," "What Am I Living For" and "Little Things Mean a Lot."
"It's material of that type that I wanted to do," Watson said, adding that he knew all of the songs but had to relearn some of the lyrics.
In addition to Watson's regular guitar partner, Jack Lawrence, "Docabilly" features the musical talents of Junior Brown (guit-steel), Marty Stuart (mandolin, electric guitar), Mike Auldridge (dobro, lap steel), Roy Huskey Jr. and T. Michael Coleman on bass, Pat McInerney (drums) and pianist Larry Knechtel, formerly with Bread.
Perhaps it's no surprise to Watson's fans, who have seen him in a PBS documentary rewiring a building by feel, that on "Docabilly" he's shown driving a car.
"They took pictures of me driving a '59 Galaxy Ford that had been restored to better than new-like condition. You wouldn't believe that car," Watson said, laughing.
"It was a big, long wide street in Nashville and I had to go about 50 or 60 yards," Watson said. "There was a fellow in there prompting me. But I know what the brake lever is and what the drive position is on the gear shift and I know how to brake and how to put my foot on the accelerator if I needed to, you know . . . I just held the wheel straight, laughed and hollered and drove!"
Watson was born March 3, 1923, to General Dixon and Annie Watson in Deep Gap, N.C., in the heart of the Blue Ridge Mountains. His parents introduced him to music and religion early on. There was "just the old phonograph around the house," he said. "Of course, I heard the singing at the church, and my mother sang a few of the old ballads when she'd be knitting some of the boys' overalls or cooking or something or other. Never heard Dad, except when he was singing the good-old gospel songs."
At 5, Watson began playing harmonica. By 11 he had picked up the banjo, made with part of his grandmother's old, decrepit cat, which had been put out of its misery. At about 13, Watson attended the State School for the Blind at Raleigh, where he learned a few guitar chords.
As a teen, Watson began playing music with his older brother, Linny, in the style of the old-time brother duets. By 19, he got a gig performing for a radio show. The announcer felt "Arthel" was too stuffy and was searching for a different name when someone in the audience shouted "Call him Doc." It stuck.
At 23, Watson married his 15-year-old third cousin, Rosa Lee Carlton. They live together in Deep Gap.
After recording more than 40 albums, Watson doesn't worry about what the trends are in the music business. While the industry has explored fad after fad, Watson is unflappable. He knows that music touches his life in a special way, and its effect on other people is tangible.
"I hope they've learned some moral lessons from all of it," he said. "The ballads and songs that don't leave everything in the gray matter, they show the black and white of right and wrong, and the gospel album, which speaks for itself." Watson was referring to "On Praying Ground" (Sugar Hill), an album that won him a Grammy in 1990, recognized for not simply its all-star cast, but for the value of its spiritual message.
Inspired by the values expressed in old-time country music, his Baptist upbringing and his belief in the pulpit of family, Watson has always known both what's important to him, and what ought to be. He even traded his acoustic guitar for a Les Paul electric for a time in the 1950s.
"It was to get out there and earn a few bucks to help Rosa Lee raise the kids," Watson said. "And I love music . . . I guess responsibility is the top of the line, and love for the music would have to come second. A man that's a man cares about his family. That's what it boils down to."
One of nine children, family has been paramount to Watson and to his career. His partnership with his son, Merle, also was legendary. Merle, who died in 1985 in a tractor accident on the family farm, was more than a fine son and multi-instrumentalist to Watson.
"He was good, but also the best friend I ever had, and it showed in the music," Watson said. "He could feel what I was going to do; he could anticipate it. The same way with me. It was that way between us when we were on the stage."
Years after Merle's death, Watson experiences reminders of how his son affected his life and his music. He believes Merle, named for famed fingerstylist Merle Travis, never got enough credit for his musical abilities. Merle was a stellar player of banjo, acoustic and slide guitar.
"Occasionally a lick that Merle played I'll hear come out of my fingers and I'll say 'wait a minute, the boy did that,"' Watson said. "He had a lot of his very own stuff. His mother started him on the guitar and he just took it and went with it. I really didn't teach Merle. A lot of people say `Hey you taught him to pick good, didn't you?' No, I didn't . . . I'd say 95 percent of the fingerstyle on our recordings was Merle. It wasn't me."
Watson commemorates Merle both through album dedications and the MerleFest, now it its eighth year, held in April in Wilkesboro, N.C.
Playing alongside Watson today is Jack Lawrence, a fine guitarist also from North Carolina. The two trade licks feverishly on stage, and Lawrence's presence is helpful to Watson when they're on the road.
Today, Watson's performing has slowed, but he hasn't waivered, playing out to supplement his income, but mostly because he loves the music. "I'm doing about a tenth of what I did back in 1990 . . . I'm officially retired, but heck, if you've ever played music . . . it's kind of a way of life, you love it."
——-
Hear music recorded by Fred Robbins:
Bill Monroe's Bean Blossom 1969…
Doc & Don Reno: http://frobbi.org/audio/landreth/BeanBlossom1969/WatsonReno062169.html
Doc & Bill Monroe: http://frobbi.org/audio/landreth/BeanBlossom1969/WatsonMonroe062169.html
Bill Monroe's Bean Blosson 1971…
Doc & Merle set 1: http://frobbi.org/audio/landreth/BeanBlossom1971/BB71Reel82Watson.html
Doc & Merle set 2: http://frobbi.org/audio/landreth/BeanBlossom1971/BB71Reel81Watson.html
Doc & Merle set 3: http://frobbi.org/audio/landreth/BeanBlossom1971/BB71Reel83Watson.html