VIDEOS: Summer festivals bring tons of talent to the Northeast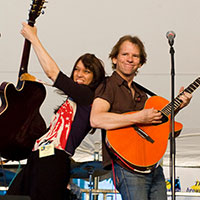 I recently attended the Strawberry Park Bluegrass Festival in Preston, Conn., one of the early festivals that welcomes the summer music season. If that festival is any indication, flooded with talent like the Dailey & Vincent Band, the Greencards and many others, the available choices this summer will again be stellar for fans of bluegrass and folk music. Top-tier festivals are bringing in an abundance of talent in almost any genre imaginable. Read on for a small sampling of what's in store in the Northeast this summer.
For fans of folk music, there are several great choices. The Greater New Bedford Summerfest (July 6-8, 2012) remains one of the best bargains of the summer. At $26 for a weekend pass, you can see more then 50 performers, from local singer-songwriters to top-circuit acts like Peter Yarrow, Catie Curtis, Patty Larkin and Garnet Rogers. Held in downtown New Bedford, the festival offers something for everyone, with crafts vendors, artists, food and more, along with free parking.
A sampling of some of the groups performing at this year's Summerfest:

The popular Green River Festival (July 14-15, 2012) returns to Greenfield, Mass., offering an eclectic mix of music and headlined by Western Massachusetts resident and favorite Arlo Guthrie. There will be about 30 acts on three stages, including other headliners like Los Lobos, Richard Thompson, Americana groups like David Wax Museum and C.J. Chenier's sounds from Louisiana. In addition to crafts and vendors, the fest is known for its hot air balloon rides.
The Grey Fox Bluegrass Festival in New York's Catskill Mountains (July 19-22, 2012), the award-winning and biggest bluegrass festival in the Northeast, has such a wide range of talent on its multiple stages, it's hard to choose who to go hear perform. The lineup is a "Who's Who" in bluegrass music, with over 40 acts spread over seven stages, including a full program of entertainment for children. Headliners this year include Hot Rize, Del McCoury, David Bromberg, Jesse McReynolds, David Grisman and the Infamous Stringdusters. The festival offers a wide variety of food and other vendors, and is a home-away-from-home for many people who plan their summers around it. Many folks extend their experience by attending the pre-Grey Fox campout at The Foxhole Picking Party, a beautiful campout a few miles up the road.
A few of the groups who will be at Grey Fox this year:

Folk fans also can enjoy the Falcon Ridge Folk Festival (July 27-29, 2012), a long-running show that features top names on the folk circuit, at least 40 acts in all. Falcon Ridge is in the foothills of the Berkshires, not far from where the boundaries of New York, Connecticut and Massachusetts meet, making it an ideal location for folks in the Northeast. The festival features stalwarts on the folk scene, like Aztec Two-Step and Holly Near, as well as contemporaries on the folk circuit like Girlyman, Jubal's Kin, Tracey Grammer and Eddie from Ohio. Falcon Ridge has always been a welcoming festival, with lots of vendors, campground jamming, sing-alongs, song swaps and a congenial atmosphere that makes everyone feel welcome.
The same weekend as Falcon Ridge is the popular and free multicultural Lowell Folk Festival (July 27-29, 2012), in Lowell, Mass. This festival, based in downtown Lowell, offers six stages with about two dozen acts. If there's a genre of music you enjoy, you are likely to find it in Lowell. Bluegrass fans will enjoy the Claire Lynch Band, while folk fans will enjoy the wide variety of groups performing everything from cajun to honky tonk, Irish music to Navajo dances, Latin American, klezmer and Hawaiian music. Everything is in walking distance, including crafts, vendors and ethnic foods.
Another wonderful gathering is the Podunk Bluegrass Festival (Aug. 2-5, 2012), which moves this year to Norwich, Conn., from its old locale in East Hartford. Podunk, also an award-winning festival, is bit smaller in scale than some of the other camping festivals. But with a dozen and half top bluegrass acts, it is a player in the bluegrass world and worth checking out. This year they are bringing is top acts like Kathy Mattea, The Grascals and Dailey & Vincent, along with progressive bands like Missouri's The Hillbenders.
On Labor Day weekend, the party continues with a couple of dozen bands at the Rhythm & Roots Festival (Aug. 31-Sept. 2, 2012), at Ninigret Park, Charlestown, R.I. This all-music festival is known for its wonderful food and seemingly endless dancing. Headliners this year include Nanci Griffith, David Bromberg, Donna the Buffalo, the Duhks, the Carolina Chocolate Drops and a wealth of Cajun and zydeco acts, including Geno Delafose & French Rockin' Boogie and Steve Riley & the Mamou Playboys. The park has a wonderful playground for children, and there are loads of vendors with clothing, crafts and foods that line the outer edge of the field. Rhythm & Roots is a wonderful end to summer vacation — a Mardi Gras party right in your own backyard.
Other regional festivals include:
The Jenny Brook Bluegrass festival (June 20-24, 2012), which opens tomorrow in Tunbridge, Vermont.
The Ossippee Valley Music Festival (July 26-29, 2012) in Ossippee, Maine.
The Newport Folk Festival (July 28-29, 2012), Newport, R.I. If you're lucky enough to get a ticket. It is mostly sold out.
The Pemi Valley Bluegrass Festival (Aug. 2-5, 2012), Thornton, N.H.
The Thomas Point Beach Bluegrass Festival (Labor Day weekend, Aug. 30-Sept. 2, 2012), near Brunswick, Maine.
For a complete listing of all regional bluegrass festivals, visit the Boston Bluegrass Union's festival listings.
For a huge listing of music festivals in and around Vermont, see the listings and map from Vermont Public Radio.
For other listings of festivals throughout New England, see the listings on the All Things New England website.
[Correction: A previous entry of this blog post included the Champlain Valley Music Festival in Vermont. But a deficit in 2011 prevented the festival from recurring in 2012. You can read about it on their web site.]