VIDEOS: The Mary Maguire Band melds swing, folk and bluegrass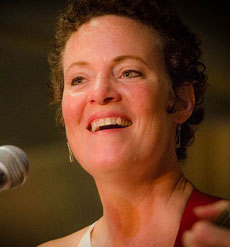 Saturday's show with The Mary Maguire Band at the Rose Garden Coffeehouse in Mansfield offered a mix of music, from bluegrass, to swing to folk to a touch of MoTown. Maguire, with her longtime singing partner Jeff Horton and group newcomer John Tibert, performed a set of original tunes mixed with songs by contemporary folk singers like David Mallett, swing from Hank Williams and 70s classics.
Maguire joked about "mowing the grass" with what they called bluegrass or acoustic versions of tunes like Gloria Gaynor's "I Will Survive," or Diana Ross's "You Can't Hurry Love." Remarkably, those songs translated well into an acoustic style, helped along by the band's solid rhythm and harmonies. Aside from the levity that those tunes provided, the group delved into some upbeat swing in "Who Knows What Tomorrow May Bring?" or Hank Williams' "I'm Satisfied With You."
The band has a solid vocal mix, with Maguire and Horton playing off of each other's ranges. The pair often teach harmony workshops together at festivals like the Grey Fox Bluegrass Festival. So their voices blend automatically. It's nice to hear them perform what they preach, with Maguire's somewhat deeper voice playing off of Horton's playful vocal range.
Instrumentally, Tibert is a fine addition, adding appropriate, tasteful mandolin leads and a third voice. He even played guitar and sang an original country number.
Here are some songs from Saturday's show:
Overall, I wasn't sure what I was going to think of the band, having not seen them before in this fashion. I knew I enjoyed music by Maguire, and Horton was familiar as a former member of the progressive bluegrass band Northern Lights and other bluegrass incarnations, including the Neon Valley Boys. And, of course I had heard them during festival workshops. But this was a first for me seeing them performing an actual two-set show, and I have to say I was pleased with the results.