VIDEOS: 28th Joe Val Bluegrass Festival a premiere gathering of good friends, top bands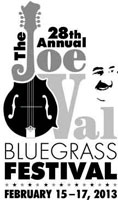 The peaceful hallways of the Sheraton Hotel in Framingham, Mass. will  soon transform into a musical paradise. People will gather. Instruments will emerge from cases. Friendships will be forged; old friendships will be renewed. Bluegrass music will burst from the Sheraton's corridors, its lobbies, outside its elevators, in dozens of rooms, and in a huge banquet hall with a main stage.
The 28th annual Joe Val Bluegrass Festival, Feb. 15-17,  brings the hottest bluegrass gathering to the coldest part of winter. For bluegrass fans, it is an early kick-off to a phenomenal season of music.
That fact is not lost on festival producer Gerry Katz, who with the Boston Bluegrass Union has nurtured the off-season gem  into one of the finest festivals in the region. It arrives just a few months after bluegrass music's annual gathering of the International Bluegrass Music Association, where newbie bands and top acts get the chance to strut their stuff.
"We do like to think we have our collective ears to the ground, at IBMA, in talking with the record labels and while out at other events," Katz said. As such, they are tuned into newcomers and they know who's hot on the bluegrass circuit.
This year's festival has an amazing array of top acts. From progressive bands like The Seldom Scene to the Steep Canyon Rangers, Steve Martin's touring band, and fan favorites Claire Lynch and Dale Ann Bradley. Many other favorites make their return, including The Steeldrivers, a dynamic band with a whiskey-hewn sound and a new CD, "Hammer Down," which is sure to draw new fans.
Katz is quick to point out that a new band of veteran performers, Rambling Rooks, make their debut at Joe Val. In its first performance since they debuted at IBMA in September, this band of pros is so new that they are still seeking a permanent banjo player. The members include Ronnie Ronnie Bowman (bass), Don Rigsby (mandolin) and Kenny Smith (guitar), all early members of the Lonesome River Band. Scott Vestal will join them on banjo.
Like at the IBMA conference each year, Joe Val's atmosphere mixes professionals and amateurs on the floors of the hotel. It's not uncommon for players of many talent levels to be jamming together. And listeners and players always have a chance to learn directly from the pros at intimate workshops that can help them hone their skills.
Some regional bands find appreciative audiences on the festival's showcase stages. One such band is Three Tall Pines, who played last year at a showcase and this year will open the Saturday lineup on the main stage. There are some 20 deserving regional bands who get an audience, including groups like Blackjack Crossing, with its mix of Gypsy, folk and rock, and Acousticana, with fine singing from Ellen Breen and even an accordionist.
"We recognize that Joe Val has grown in stature so that it can be a stepping stone for bands," Katz said. "[Other award-winning bands not attending this year] The Gibson Brothers, Spinney Brothers, and many others got a leg up by their repeat visits to Joe Val. This year, I'm excited to have Frank Solivan and Dirty Kitchen back again. Great band out of the DC area with a nice edge to their sound. Jim Hurst, formerly with Claire Lynch, has carved out quite a niche with his solo performances. Town Mountain, following in the footsteps of Steep Canyon Rangers, come out of the vibrant Ashville, N.C. music scene. Chasing Blue and Jim Gaudet and the Railroad Boys are also acts which need to be heard on a wider basis, and I hope that as they perform at Joe Val, the fans will ask the regional festivals to bring them to their stages."
The festival offers many stages, vendors and more than 40 workshops. The Boston Bluegrass Union also is sponsoring its ninth Bluegrass Academy for Kids, a heartwarming event in which youngsters of all ages practice for days then perform for everyone on the main stage on Sunday.
Established in 1985, the festival celebrates the legacy of the late Joe Val, a pioneering Massachusetts-based vocalist, musician and bandleader, whose performances and recordings helped to spread the popularity of bluegrass in the Northeast.
"I think we still draw inspiration from and the need to honor the legacy of Joe Val," Katz said. "In the big scheme of things the festival is not a huge event like the Grey Fox Bluegrass Festival [the biggest summer festival in the Northeast] and the hotel setting lends itself to an intimate setting. We surely try to look at making each year better than the last."
Visit the Joe Val website for ticket information and the complete schedule of acts.