Vance Gilbert gives back to the folk community and will be performing in region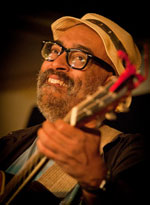 I have been following Vance Gilbert's career since the early '90s. This Boston-based performer, originally from Philadelphia, has a charm and musical flair unlike any I've ever seen. He can make an entire audience, from 30 to 3,000, shut up and just listen, and, very often laugh until their cheeks hurt.
Performer Magazine just published a story on Gilbert, and I can only hope it will be one of many about this gifted performer. If anything, it was reason for me to give him some more space in this column. Gilbert will be performing this Saturday at the Guthrie Centre in Great Barrington, Mass. His itinerary also mentions a performance in Hingham at the Coffeehouse off the Square/Old Ship Parish Hall on Sept. 14, but that is unconfirmed at this point.
Musicians are constantly under pressure to produce new material, sometimes by their record companies, but often it's self-inspired. The latter is the case with Gilbert's last CD, called "Old White Men," which I wrote about in 2011. Gilbert's music is so timeless that even when you've seen him perform many times, the songs don't get old. His songcraft, his memorable stories and lyrical poignancy make it easy for audiences to relate. His stage presence and introductions suck you in. Before you know it, you are willingly a part of his story, a part of his slice of life and understand what he was thinking, with laughter guiding the way.
It's no wonder he has opened for folks like Aretha Franklin and has shared the stage with Arlo Guthrie, Anita Baker and George Carlin. He's come a long way since I first saw him win the songwriting contest at the first and only Great Woods Folk Festival in the early '90s.
Those performance skills translate not just for his audience but also for other performers. Gilbert has worked with other performers, including Rick Drost, Beth DeSombre, Dan Tappan, and Chris Lavancher, all stalwarts of the local open mic coffeehouse scene, along with groups like Pesky J. Nixon, Folkapotamus and bands like Three Tall Pines, helping them improve their stage presence, their ability to connect with an audience. It's his way of giving back to the folk community. I asked him about that:
"My music coaching helps every one of us in this acoustic music community, as it makes acoustic music that much more listenable across the board. Hell, if we folk singers are to be lumped together as such, the bar might as well be as high as we can make it!!"
Gilbert is working on new material, too, of course, and hopes to release it soon. You can tell, from each song to each of his 10 albums, that he brings a smile and a purpose to every project.
"Yeah, the new album is my best writing yet. That's not just typical next album lip service, either. These new tunes have caused my set, old and new songs, to be the most solid and fearless ever. So far I'm looking at having guests on it like Darol Anger, Tom Rush, Richard Gates, and Lorne Entress, and a host of others, even my neighbor's kid daughters, and it will be a decidedly acoustic, free-wheeling affair.  Why not? I'm over 50, radio or record companies have no hold on me, and I have plenty of touring work. I can make whatever music that's in my head come out. Hold on tight and enjoy!"
Check out Vance's website for some of his latest rants. And here are a couple of songs recorded in 2011. I'm purposely including these so that you can hear some of Vance's intros, which often are as fun as the songs themselves: