VIDEOS: Les Sampou, with opener Random Chants on Saturday, Feb. 28 in East Weymouth, Mass.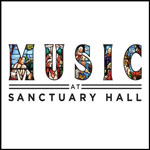 Chase away those winter blues with, well, some blues when singer-songwriter Les Sampou appears at East Weymouth's Music at Sanctuary Hall on Saturday, Feb. 28.
Sampou, whose Americana music is full of twang and blues, has a musical career that has spanned five recordings and countless listening rooms, bars, and festivals as well as over several hundred thousand miles of road, is making her first appearance at the Jackson Square music venue, held in the sanctuary of East Weymouth Congregational Church, 1320 Commercial St.
Doors will open at 7 p.m., for pay-what-you-can coffee and dessert. Music will start at 8. Tickets are $15 with discounts for students, seniors, families and groups. Advance sales are online here. For more information call 781-974-3503 or go to www.musicatsanctuaryhall.org.
Here is a recent performance from Les:

Here is an older performance, in collaboration with Taylor Armerding:

Opening for Sampou will be Random Chants, an all-female a cappella group based on the South Shore with a repertoire ranging from folk to pop, from country to rock, from the '70s to now.The group performs regularly at small music venues, corporate and private events, and weddings in the Boston area.