Take a listen to the hard-driving SteelDrivers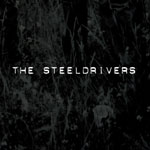 Maybe it's guitarist Chris Stapleton's gritty, reaching vocals. Maybe it's the fine harmonies from fiddler Tammy Rogers. Whatever it is, The SteelDrivers take a step beyond bluegrass on their self-titled debut CD.  Their songs, many written by Stapleton and mandolinist Mike Henderson, are mostly bluegrass, for sure. But they're more than just that. Though they rightly are called a bluegrass band and they don't shy away from that label, it's fair to say that they fit someplace between the traditional and progressive.
The SteelDrivers' original tunes have a soulful creative tension, driven superbly by Stapleton's gravelly vocals. His voice soars in bluesy tunes, like "Midnight Train to Memphis," but then blends sweetly with Rogers' in "Hear the Willow Cry," which has an Appalachian minor-chord sound. But you be the judge. Below are a few videos that will give you a taste of their unique sound.
The SteelDrivers perform "If You Can't Be Good, Be Gone"
at the 2008 Joe Val Bluegrass Festival in Framingham, Mass.

And, though this song, "Can You Run," is not on The SteelDrivers' new CD,
this song has a more progressive sound:

And for a sense of Stapleton's gritty vocals, here is "To Be With You Again," recorded at the Station Inn in Nashville, TN