Vincent sparkles in her latest gem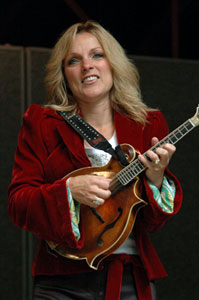 One the brightest bluegrass gems to emerge in recent years is Rhonda Vincent. This isn't news to bluegrass fans, who flock to her shows. Rhonda's faithful are accustomed to her down-home stage presence amid her touches of country sparkle. Her latest CD, "Good Thing Going" (Rounder Records), is a wonderful mix of hard-driving bluegrass, tender ballads, classic and original melodies.
Faster tunes include Rhonda's remake of Jimmy Martin's "Hit Parade of Love," her nod to Bill Monroe's "Muleskinner Blues" in her own tune, "I'm Leavin," and in Connie Leigh's "Who's Cryin' Baby."
But Rhonda is also the consummate balladeer, which truly helps you revel her lovely soprano. She sings a beautiful duet of the traditional "The Water Is Wide" with Keith Urban.
Joining Rhonda are a bevy of other musicians, from IIIrd Tyme Out's Russell Moore, extraordinary acoustic guitarist Bryan Sutton, mandolinist Jesse McReynolds and members of her own band, The Rage.
You can hear a bit from Rhonda's latest here in a behind the scenes video.
And here's Rhonda performing Dolly Parton's famous melody,
"Jolene" (Sorry it's a bit shakey):