Northern Lights CD alive with nuance
Northern Lights is a New England-based band that has undergone numerous changes since its inception in 1975 (band history). About the only aspects of the band that have been constant in recent years is change – and guitarist/singer and early member Bill Henry.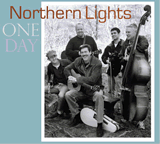 The band's style often is referred to as "progressive" bluegrass or Newgrass. This basically means that they don't fit in the mold of a traditional bluegrass group and dare to perform music from outside the genre. So it is no surprise to hear them perform Little Feat's "Fat Man in the Bathtub" or Mark Knopfler's "Sailing to Philadelphia" on the band's latest CD, "One Day," on Fifty Fifty Music. It's the band's first CD since 2005.
Northern Lights has always been a strong harmony group and their new CD doesn't disappoint. Virtually every song has a rich blend of vocals, with the occasional bust-out leads from singer Ben Demerath (guitar/mandolin). Instrumentally, the group is as strong as ever, with fine mandolin playing by Joe Walsh, stellar fiddling from Mike Barnett and Henry on acoustic guitar.
Playlist of clips by Northern Lights
Songs include "Short Time Going" and "One Day."

Guest Jonathan Edwards sings soaring lead and plays harmonica on an updated version of "Working on a Building." Other guests include former band member Mike Kropp on banjo in a couple of songs and vocals from one of the band's founding members, Taylor Armerding.
I particularly liked the title track by John Daniel, which has an almost doo-wop quality to it, were it not for the acoustic instruments. I also liked the jazz nuances in the instrumental "Mohegan's Jig," something you might not expect to hear in a traditional Irish tune.