Eliza's "Beautiful World"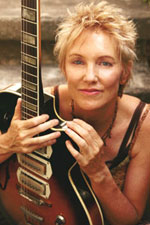 Eliza Gilkyson blew me away years ago with her CD "Land of Milk and Honey." That CD was nominated for a Grammy. It had me wondering where she came from, and why I had missed her music all these years. That CD, with its anti-war plea and calls for peace, seemed to peg her as a "folkie." Though clearly, she has the power of a rocker, and the lyrics of a poet. Her stuff just clicks, kind of like the first time I heard Lucinda Williams.

Eliza's latest, "Beautiful World" (Red House Records), is apocalyptic and joyous all at once in a variety of styles, from rock to jazz to folk. Her songs are about love and beauty in a tumultuous world. She taps the urban need to escape in the tenderly picked "Wildewood Spring" and rejoices her way through the rocker "The Party's Over."
Playlist of clips by Eliza Gilkyson
Clips include "The Party's Over" and "Dream Lover."

Other songs are empowering and starkly written, like the rocking "Dream Lover," about women who become porno queens:
"I do my time in the eye of the lens
so some loser can launch his rocket
what do I care if they think they're my friends
when their money is in my pocket
you can call me a victim you can call it a sin
you can stand on your stump and shout it
but it's man's world that we're livin in
and I don't want to talk about it"
She is at her lyrical best in "Great Correction," which reveals all our flaws and offers a warning:
"people round here don't know what it means
to suffer at the hands of our american dreams
they turn their backs on the grisly scenes
traced to the privileged sons
they got their god they got their guns
got their armies and the chosen ones
but we'll all be burning in the same big sun
when the great correction comes"
Great Correction was the first song written for the CD, apparently inspired by monthly gatherings around Austin, Texas, that covered topics from politics, to art, spirituality and the environment. In her press release, Eliza is quoted as saying she wrote the song "as a way to console myself as I grieve the devastation of the human and natural world." But after writing it she was inspired to write songs of hope and a better world.
Here's a live rendition of "Great Correction":