The Earl Brothers put on a "shine" with CD that is old-timey, raw and fresh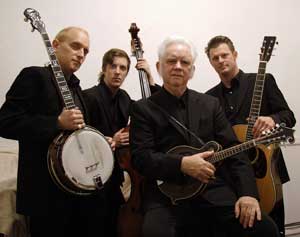 So many newer bluegrass bands trend toward three or four-part harmonies and rich productions on CD. But much of the early bluegrass music was sparse and simpler.
"Moonshine," The third CD by The Earl Brothers (listen to tracks online), harkens back to the early sounds of the '40s and '50s. Led by the drawling, well-worn vocals of Robert Earl Davis, the quartet has a sound reminiscent of Ralph and Carter Stanley with guitarist Danny Morris adding tasteful harmonies.

In true early bluegrass fashion, their all original songs are raw, dark and foreboding, about drunkenness, heartache, soured relationships and troubled life.
How troubled? All you need do is listen to Robert Earl Davis' lyrics and you realize that your own life just isn't so bad any more, by comparison:
Bill was found by the side of the road
He wasn't looking too good
Legs all bent from a bad accident
No one to call him their own

Bill Boy an ole broken heap
I know you just wish you were dead
Mama has left you by the side of the road
Wish she had loved you instead
You get the idea. But because it's a rather mid-tempo waltz with a melody that reminded me of Carter Stanley's "I'll Never Grow Tired of You," you rather feel good about Ole Billy.
Here are The Earl Brothers performing "Dark Days,"
another song off their new CD:
Though I suppose it's rather cliché in bluegrass circles to be singing about the hollow and the whiskey still, The Earl Brothers lend an authentic flavor to the title track, a buoyant song with a strong banjo drive from Davis. Other band members include Larry Hughes on mandolin and James Touzel on bass.
Aside from Robert "Earl" Davis, I have no idea why this group is called The Earl Brothers. Though I've sent an email to ask.
Meanwhile, here is an 2006 interview from Mutinyzine.com: