A Scotsman voice finally re-emerges
Archie Fisher
performs "Coll Mackenzie," along with some stories from Newfoundland, at the Lang Spoon Festival, March 2007.
I first heard of Scottish folk singer Archie Fisher long ago from the music of another folk singer, Stan Rogers. Rogers had recorded this hauntingly and seemingly impossible-to-fingerpick melody called "Dark-Eyed Molly," a pensive song about a man so in love that he declares no one could ever take her place. The ballad was more poetry than song, though Roger's powerful baritone lent it all the more credence.
Then I heard others from Stan, like "Witch of the Westmorland," and later "The Final Trawl," a melancholy ballad about decommissioned sea trawlers performed by Stan's brother, Garnet Rogers. I knew then that I needed to know more about Archie Fisher and later picked up a copy of his CD "Sunsets I've Galloped Into," which introduced me to Fisher's Scottish vocal inflections that seem a perfect match for his poem-songs.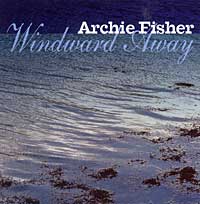 Fisher himself is known as one of the world's finest singers of traditional ballads, and his latest CD (to be released July 22, 2008), which has been in the works for 10 years, bears that out. "Windward Away" (Red House Records) includes 19 traditional and contemporary songs, including eight songs from the "missing master," tunes recorded in the 70s with Tommy Makem and Liam Clancy. He also performs "The Final Trawl
But it's Fisher's warm vocals over his fingerpicked guitar that carry this CD, with songs about the Scottish Border country, of the sea, his love of horses or about loneliness and love.
But you can hear some of Archie yourself. Included below are a couple of tracks.
Playlist of songs by Archie Fisher
Clips include "Every Man's Heart." Fisher's liner notes say it was "inspired by Annie Proulx's Newfoundland proverb in her masterpiece The Shipping News." The other clip is "The Final Trawl," which was "inspired by a pair of decommisioned trawlers off Scrabster Harbour."