What all the buzz is about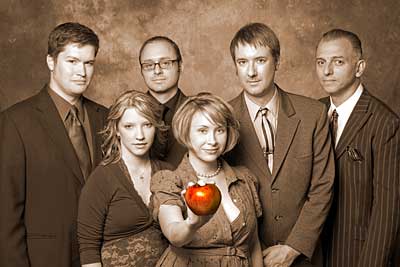 There's another fresh bluegrass sound coming out of Virginia. Or should I say, "Ripe." That is the name of the second CD (Pinecastle Records) from the Dixie Bee-Liners. This former New York group, with fine female duet vocals from Brandi Hart and fiddler Rachel Renee Johnson, has a sound that is both sultry and mysterious.
Since I have a dear friend who is a beekeeper, I was of course drawn to the name of this band. But, really, they are named for Kentucky Highway 41, which is known as the Dixie Bee-Line. Appropriately enough, Hart, one of the band's lyrical co-authors, is a Kentucky native. Together with veteran bluegrasser Buddy Woodward, they have penned contemporary tunes that have a distinctively traditional sound.
Playlist of clips by the Dixie Bee-Liners
Songs include "Down on the Crooked Road" and "She's My Angel."

The lead-off track, "Down on the Crooked Road," talks about traveling Virgina's Crooked Road, a rolling-along tune, with lyrical references to the Stanley Brothers. "She's My Angel" is a sweetly affecting country-bluegrass melody about daughters, or as Hart writes in the liner notes, "It's about watching my own mother watch me grow up." And, with the help of Grammy-winning producer Bil VornDick's (Alison Krauss, Ralph Stanley, Bob Dylan), they get a funky sound going on "Bugs in the Basement."
You can hear more music clips at Pinecastle Records, on their own web site or on their MySpace page.
This video is a bit indistinct, but it includes
one of the songs from the Dixie Bee-Liners CD, "Ripe."