The Grascals are among the best of bluegrass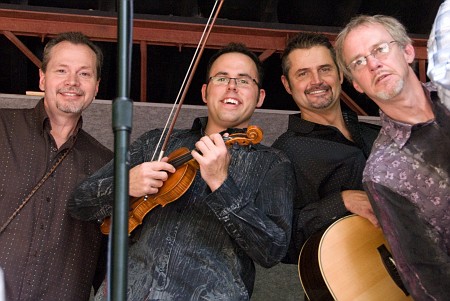 The Grascals have a great name, a new sponsor (see my earlier post) and one of their members even appears in a Viagra commercial on TV. OK, despite that last fact, this 4-year-old group with powerful, harmony rich vocals and a finely honed sound, is poised to sit among the best of bluegrass.
"Keep On Walking" (Rounder Records), their third CD, due out July 15, has a nice blend of fast-paced bluegrass tunes, softer country melodies and a well-rounded mix of melody and instrumental work. New to this recording is bassist Terry Smith on vocals and banjo player Aaron McDaris.
The Grascals have a way of ramping up a song in a way that is contemporary, uplifting and in keeping with the spirit of the first-generation of bluegrass. I guess that should come as no surprise since at least three of the band's members had performed with The Osborne Brothers. They have fun on stage and it translates to the audience. They laugh and joke among themselves, and the audience often relates to them as just average guys with superb talent having fun with the music they love to play.
Dueling guitarists (right- and left-handed, respectively) Terry Eldredge and Jamie Johnson have a fine mournful vocal blend on "Sad Wind Sights," with added vocals from Vince Gill. Songs like "Choices" and "Indiana" have such instantly memorable melodies, I feel like I've known them forever. And I've certainly caught myself humming them well after the CD wound down.
Here are a bunch of The Grascals songs from various festivals:
They also visit classic songs, like the speedy "Rolling in My Sweet Baby's Arms," which the Grascals say brought a smile to the face of banjo master Earl Scruggs. But then they add in the softer songs like Merle Haggard's "Today I Started Loving You Again" and you know they've found some magic.
Other songs, like "Happy Go Lucky" and "Can't You Hear That Whistle Blow" are ones that they have been performing on stage for quite a while, finally on CD.
Since the CD goes on sale July 15, expect The Grascals to have plenty on hand to sell when they perform at the Grey Fox Bluegrass Festival, being held July 17-20, in Oak Hill, N.Y. (The Grascals' main stage show is slated for 4 p.m. Friday, July 18.)