Fiddler-singer April Verch's latest CD is a gem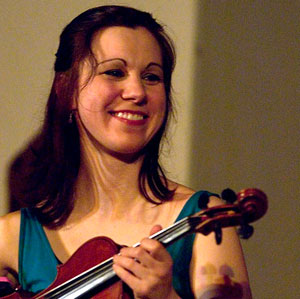 April Verch has one of the purest voices in traditional music. And when she plays the fiddle or adds a flurry of step dancing – often at the same time – the wealth of her talent shines as brightly as her smile from the stage. Verch's latest, "Steal the Blue" (Slab Town Records, aprilverch.com) is a wonderful mix of Ottawa Valley-style fiddling, along with country and bluegrass songs and a voice to make you melt.
Verch is one of the most salt-of-the-earth people you could ever meet. When she greets people at her shows, the smiles are genuine. She is a natural, whether she is jamming in a music festival camping area or sharing the limelight with her band, which includes her husband/percussionist Mark Bru. Her fiddling shines, especially on tracks like "My Friend Craig," with dynamic guitar work from Isaac Callender and bodhrán from Bru.
Though Canadian Verch easily can do entire CDs of her fiddling alone, this CD contains mostly songs. It drives home how dynamic a singer she is. Her vocals are emotive and bright, sweetly captivating, from sadly affecting melodies like the countrified "The Last Geyhound" to tender songs like "Long Way Home" or "Slip Away." Her fiddle original, "Independence, VA," sounds like it could have served as a soundtrack to a Civil War drama.
Almost a dozen other performers contribute to this CD, including mandolinist Sam Bush, banjoist Scott Vestal and several fine harmony vocalists.
Her tour schedule says she won't be around the Boston area anytime soon, the closest locales are Maine in June. But you never know. Keep a watch out for April. She's worth the wait.
Here was April putting on some moves at the Rose Garden in Mansfield, Mass., a couple of years ago:
And here's another recently in which she performed a dedication to the late John Hartford, called "A Riverboat's Gone."