Buskin & Batteau to perform in Franklin at Circle of Friends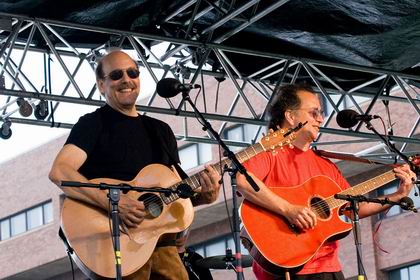 I'm looking forward to seeing Buskin & Batteau on Saturday night. The New York folk-pop duo, who I originally saw as a backup-up band to Tom Rush in the early 90s, had put their duet on hold for quite some time. But now they are back and promoting new songs from a new CD, called "Red Shoes and Golden Hearts." In celebration of their new CD, the duo is asking women to wear red shoes to Saturday's show.
Here are a half-dozen Youtube videos (volume varies), with new tunes mixed with some older ones:

Bronx, N.Y.-born David Buskin is a familiar face in the area in recent years, as he has performed as part of a comedic folk trio called Modern Man. The son of a sea captain, Buskin's songs have been performed by Tom Rush, Peter, Paul & Mary and many others, and he has earned a living as a jingle writer for Burger King, Amtrak and Chevrolet, among other companies. Robin Batteau is a Grammy, Emmy and Clio-award winner, an improvisational violin player, who has recorded a dozen CDs over the years and whose songs have been performed by Judy Collins, Whitney Houston and many others.
They will perform with special guest Danielle Miraglia at 8 p.m. Saturday at the Circle of Friends Coffeehouse in Franklin. Tickets are $20.