CD: Infamous Stringdusters release an exciting mix of bluegrass, newgrass and originals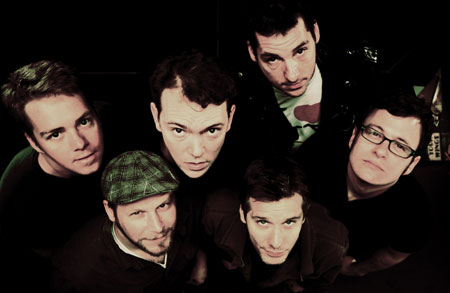 The Infamous Stringdusters are among the most exciting bluegrass/newgrass groups to hit the music circuit in some time. They are, in my mind, the Moody Blues of bluegrass, not wedded to one style of music. Though their music has bluegrass as its backbone, they push the genre, much like New Grass Revival did in the 70s and 80s.
Their third CD, "Things That Fly" (Sugar Hill Records), takes the listener on an unpredictable musical journey, with original songwriting and an emphasis on strong melodies. At least nine of the tracks are band originals, beginning with dobroist Andy Hall's lead-off bluegrass in "You Can't Stop the Changes."
Watch a video about the band and the making of "Things That Fly:"

They bring to the table remarkable instrumental talent, a penchant for experimentation and an appreciation of the roots of bluegrass. In addition to the band's own fine vocals and harmonies, they get contributions from songwriter Sarah Siskind, Crooked Still's Aoife O'Donovan and country singer Dierks Bentley.
The Stringdusters show their versatility in tunes like U2's evocative "In God's Country," or in the imaginative, moody originals like "Masquerade" or in "Magic #9," a Jesse Cobb (mandolin) & Chris Pandolfi (banjo) instrumental that is a melodic magic carpet ride. But adding Jody Stecher's "17 Cents," with duet vocals from Dierks Bentley & Jeremy Garrett (fiddle), puts the band squarely in with the bluegrass crowd.
Play clips from "Things That Fly" from The Infamous Stringdusters

Download a full version of the 'Duster's song "All The Same."
Then there's the pure fast-paced songs, from the melodically experimental "Taking a Chance on the Truth," from Andy Falco (guitars, keyboards) & Jon Weisberger, to dobroist Andy Hall's "Those Who've Gone On," which can lead to a speeding ticket if you are driving, with its Sam Bush/Bela Fleck-like mando/banjo licks and catchy melody.
Though it would be easy for a six-member band with this much talent to let their instruments set the pace, the group has turned in wonderful, memorable melodies. "It'll Be Alright," sung by Travis Book (bass) and co-written by Book and songstress Sarah Siskind, reminded me of the songwriting and singing of Tim O'Brien, while "Not Tonight," another Siskind/Book original, has moody Jake Armerding folk tones, with Siskind adding harmony vocals.
The wonderful thing about this CD is that it is a great listening experience. You easily become absorbed with its melodic twists and turns, its forays into the non-traditional and its inevitable return to sweet melodies. In that way, they remind me of the Moody Blues, developing a melodic composition that works as a whole and not just in parts.