VIDEO: Contest winner Larry Murante to perform Feb. 12 at Rose Garden in Mansfield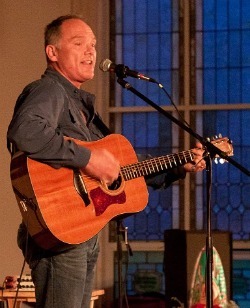 Seattle singer-songwriter Larry Murante will perform on Saturday, Feb. 12, 2011 at Mansfield's Rose Garden Coffeehouse. The guitarist was the 2009-2010 season winner of the venue's performing songwriter competition. Part of his prize is a gig at the Rose Garden. He will be splitting the bill with Irish singer-songwriter Aoife Clancy.
It's often amazing how many people from all over the country enter Mansfield's Rose Garden Coffeehouse's annual performing songwriter competition. But the prestige of the competition obviously wins out over its immediate financial gains. Many of the contestants from previous years have gone on to further their careers; some have won other contests, as well.
Murante, himself, has been a finalist or won other contests, including winning the 2009 John Lennon song contest for "Paul's Song," from his "Point of Entry" CD, and becoming a finalist in the Great American Song Contest. And he will make the trek from Seattle to perform an entire Rose Garden set, not just the two songs entered in the contest.
Larry's three CD releases, "Kiss Me One More Time" (1994), "Water's Edge" (2000), and "Point of Entry" (2009) have garnered critical acclaim from all over the country and parts of Europe.
Larry Murante grew up in the small rural town of Nazareth, Penn. (also the home of Martin Guitars). In high school, Larry began singing in working bands of every kind. "In my late teens, I was singing in a wedding band that performed a variety of styles including jazz, pop, swing, R&B, and top-40," he said. "In those early years, I was also singing in rock cover bands and playing in top 40 groups in town on the weekends." His beautifully woven stories about everyday folks, set to song, combine compassionate, socially conscious lyrics and an upbeat, joyful, folk/rock style.
The Rose Garden show begins at 8 p.m. For more information or tickets, visit the Rose Garden web site.