VIDEOS: Joe Val Bluegrass Fest a powerful mix of young and established talent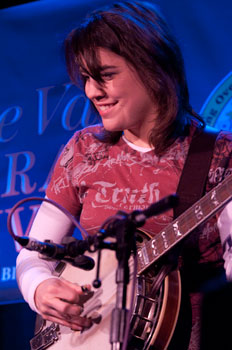 The 26th Joe Val Bluegrass Festival ended Sunday evening, after three days of great music from a wide variety of groups, from established pros to kids on stage playing bluegrass. As always the Bluegrass Academy for Kids was a hit, not just with parents, but for the large and supportive Sunday crowd in the ballroom at the Framingham Sheraton Hotel.
To keep up with other posts, videos, photos and more about bluegrass and folk music, also visit and "like" this Facebook page. You'll see posts by me and others who write about music, take photographs and post videos. Good stuff!
The Grascals gave a wonderful performance to end off the festival's three days, with songs done only the way the Grascals could do them – heart-wrenching ballads interspersed with foot-stomping traditional bluegrass. Two-time International Bluegrass Music Association banjoist of the year, Kristin Scott Benson, was a hit with the crowd, quietly dazzling the audience with impressive banjo licks, as she let the boys chatter on and introduce the songs.
Check back here. I'll be posting more in the coming days…. Meanwhile…
Apparently J.D. Crowe, who was to have been the Saturday night headliner, broke his arm and couldn't attend the festival. His spot on the roster was filled by Danny Paisley, an award-winning artist in his own right. But people were disappointed that J.D. couldn't make it, though they understood. I might be wrong, and someone will undoubtedly correct me, but I think this was the second time J.D. Crowe hasn't made it to Joe Val.
The Grascals:


Moondi Klein and Jimmy Gaudreau:


Northern Lights Reunion:

I didn't manage to see all of the bands, but some stood out, including Della Mae, a relatively new band who had appeared last summer at the Grey Fox Bluegrass Festival and introduced a powerful new lead singer and guitarist at Joe Val, Celia Woodsmith. This band has grown musically and are just wonderful musicians, who perform a few covers and now some newer self-penned songs. I also enjoyed the light-hearted show from Rhode Island native Jimmy Gaudreau (Country Gentlemen) and Moondi Klein, whom I remember from Chesapeake and before that with The Seldom Scene. The Boxcars, featuring mandolinist Adam Steffey (Alison Krauss and Union Station, Mountain Heart, Dan Tyminski Band) and award-winning banjoist and fiddler Ron Stewart (Dan Tyminski Band, Lonesome River Band, Rhonda Vincent, Longview).