Acoustic music on the bogs in East Wareham weekend of May 20-22, 2011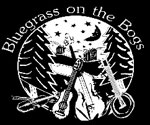 Fiddles, banjos and other acoustic instruments will be ringing out on Cape Cod next weekend at the 6th annual Bluegrass on the Bogs Festival. The festival, which features a bevy of regional bands and workshops, runs from May 20-22 at Yogi Bear's Jellystone Park in East Wareham.
The festival features acts including Railroad House, Three Cats & A Dog and many others, including a Gospel Sing on Sunday morning, May 22. For a complete list of the bands and workshops visit the festival's schedule page. Also featured will be children's activities, food and art vendors, holistic treatments, fireside jams, beachfront yoga, a silent auction, raffles and more.
Visit the website for more information, tickets and other event information.