VIDEO: Vance Gilbert, songwriter contest return to Rose Garden this Saturday

It's been 11 years since Vance Gilbert has performed at Mansfield's Rose Garden Coffeehouse, and since then his popularity has skyrocketed. He returns this Saturday, May 21, 2011, as the final act of the 2010-2011 Rose Garden season, the main act after the annual performing songwriters competition. The contest this year features two Massachusetts performers and one from Seattle.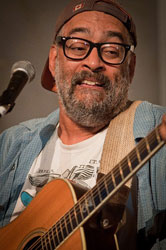 Vance Gilbert first came to the Boston music scene in the early 90s. One of the first times I heard his music was at the Great Woods Folk Festival in the early 90s. There he won the songwriting contest playing an old nylon-stringed guitar with heartwarming songs and his out-front, honest personality. He has since progressed to steel strings, but his pension for evocative performances, with frequent comedic blasts, have propelled his musical style over the years, gaining him fans in multiple music circles.
His music varies from tender folk ballads to spiritual melodies, delving into truths about humanity and real people. He is also a complete showman. He has fun with everyone and everything. His stage persona is riveting and magical. As a photographer, I can't remember a time he didn't mug for the camera or simply make fun of me from the stage. It's part of the act. And if the crowd responds — and they always do — he is quick with a comeback. Such are the nature of Vance's shows. They are heartfelt and performance art. The audience comes away thoroughly engaged and entertained.
Vance performs "Some Great Thing" in New Bedford:

Here he is spoofing a rapper:
In the songwriting contest, now in its 19th year, three performers will play two songs each to open the evening's show. The performers include Ron Carlson of North Oxford, Mass., Tom Gizzi of Lenox, Mass., and Charlie Loesel of Seattle. Lest you think that this is a homer's contest, last year's winner, Larry Murante, was from Seattle. The contest's popularity over the years has drawn performers from all over the country. It's become a feather in the cap just to become a finalist from the multiple dozens of entrants.
2011 Performing Songwriters Competition – Contestants

Ron Carlson, N. Oxford, Mass.
No web site listed

Tom Gizzi, Lenox, Mass
web site

Charlie Loesel, Seattle WA
web site
Ron Carlson is a currently unemployed union paperhanger and painter who first started dabbling in music at age 13. He plays guitar, octave mandolin, banjo, ukulele, and other stringed instruments. He has worked in numerous bands, has one CD, and is working on a new recording.
Tom Gizzi, used to work in the hotel restaurant business but now performs at about 70 assisted living facilities a year and at the Red Lion Inn in Stockbridge, MA. He's been playing guitar since he was a teenager and says that most of his songs are inspired by the 30 years he has spent living in the Berkshire Mountains.
Charlie Loesel will be flying in from Seattle to compete on May 21. He began performing at age 29 in his hometown of Traverse City, Michigan, after starting a career in engineering. He spent time in Nashville doing some recording, then moved to Seattle to get away from the business part of music and find time to write.