VIDEOS: Musicians travel from all over for songwriting contest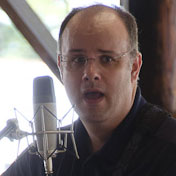 I had the privilege of traveling to Maine on Sunday for the Ossipee Valley Music Festival. My goal was to see my wife's childhood friend perform in the festival's songwriting contest. Some 21 songwriters performed, judged by members of the Boston-area band The Bagboys. Despite an announcement made about folk singer Bill Morrissey's death the night before (July 23, 2011), the spirit of the contest endured. The event, held essentially in a stable at the fairgrounds, was well-attended, with an attentive audience. Some performers brought their own fans. All sought to sway the judges with their finely crafted and performed songs.
The winner of the contest was Martin Swinger of Texas, whose song "Little Plastic Part" impressed the judges by it's humorous aspects that led into a more serious metaphor. You can hear his song here. I apologize for missing the video on the early part of the song. I tried to fill the gap with photos of several of the performers. But the song itself is listenable in its entirety.
And here are some other performances from the day. The first is my wife's friend, Mama Beth Revels of Bath, Maine, who sang her song "Bitter Times." You can hear Beth's radio program, called "Mama's Midcoast Bluegrass Radio Show," from 12:30-2:30 p.m. on Mondays online at Bowdoin College's wbor.org (click on the "listen now" icon).
Also, I was pleasantly surprised to see that Tim FitzPatrick, a Massachusetts singer-songwriter who has performed at the Rose Garden Coffeehouse in Mansfield, made the three-hour trek to Ossipee to perform one of his gems: