VIDEO: A jam from the National Folk Festival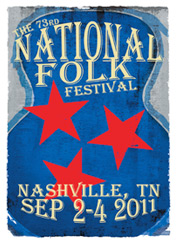 A buddy, Craig Murray, just returned from the 73rd annual National Folk Festival, held in Nashville. The event, held free to the public from Sept 2-4, 2011, featured music of all sorts, dance, workshops, ethnic foods, parades, crafts, storytelling and much more. Put on by the National Council for the Traditional Arts, the event will be held in Nashville until 2013, it's 75th year.
Craig captured this off-stage jam of some folks playing the "Wabash Cannonball":
Pickin' the Wabash Cannonball in Nashville 2011 from craig murray on Vimeo.