VIDEOS: Bluegrass, country worlds remember Wilma Lee Cooper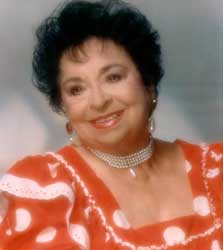 Bluegrass and country star Wilma Lee Cooper, known as the "First Lady of Bluegrass" and a longtime member of the Grand Ol' Opry, died of natural causes at her home in Sweetwater, Tenn. on Sept. 13, 2011. She was 90. Cooper, who teamed with her husband, Stoney Cooper, for some 30 years as Wilma Lee & Stoney Cooper and the Clinch Mountain Clan. Cooper was known especially as a songwriter, having penned songs including "Philadelphia Lawyer" and "Big Midnight Special," among many others, which were recorded by many musicians.
Cooper suffered a stroke in 2001 at age 80, which left her unable to perform. A native of West Virginia, she was dubbed "The First Lady of Bluegrass" in 1974 by the Smithsonian Institution. Her music and influences run far and wide. The International Bluegrass Music Association (IBMA) honored Cooper with a Distinguished Achievement Award 1994 for her contributions to the genre. and she was inducted into the SPBGMA (Society for the Preservation of Bluegrass Music of America) Hall of Fame in 2001.

Click on the player above to hear a Fred Robbins recording of Cooper from the 1977 Berkshire Mountain Bluegrass Festival (now the Grey Fox Bluegrass Festival).