VIDEOS: Finger-style guitarist Jim Hurst releasing new solo CD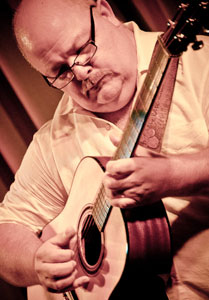 Recently, in Nashville, I had the chance to see a solo performance by award-winning fingerstyle guitarist Jim Hurst. Jim was supposed to perform with another award winner, dobroist Rob Ickes, at an after-hours IBMA showcase. Ickes, as it turns out, was ill and couldn't perform. Hurst, took to the microphone, explained Ickes' absence, and proceeded to blow away a small, but appreciative, crowd. As much as I enjoy Ickes' playing, I didn't miss him during this show.
Hurst draws his influences from the great George Shuffler (inducted two days later into the Bluegrass Hall of Fame), Tony Rice, and others, but the playing of Merle Travis and Chet Atkins set his musical direction. He has performed over the years with the Claire Lynch's Front Porch String Band and in duet with bassist Missy Raines. In 2010, he began a solo career. His third CD, "Intrepid," is due out sometime in November. Folks who attended his solo showcase got a sneak preview. And to anyone who had seen Hurst as merely a supporting act in other bands, this solo show set him apart as a musical force.
Hurst's playing varies from the percussive to the emotionally enriched. His playing is so smooth, his delivery on guitar and on vocals, a melding of instruments, is captivating and tasteful. I was pleased when Jim approved the following videos, three of which ("Open G Medley," "Long and Lonesome Old Freight Train" and "Lock on Me") will appear on Jim's new CD.
Check on Jim's website, along with his Youtube channel, for more of his fine work.