VIDEOS: Angel Band visits Franklin's Circle of Friends on Saturday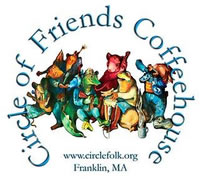 Angel Band, a trio of powerful female vocalists who perform in their own right and sometimes along with David Bromberg, will bring their rootsy, bluesy Americana songs to Franklin's Circle of Friends Coffeehouse on Saturday, Nov. 5, 2011. Opening the show will be K.C. Clifford, a three-time Woody Guthrie Award-winning singer-songwriter from Oklahoma City, known for her powerful voice, stage presence and courageous lyrical style.
Angel Band, which consists of Nancy Josephson, Kathleen Weber, and Aly Paige, will bring along its own superb backup band that aids the group in putting their three-part harmonies right out front. The group, which has been voted one of the top 10 bands at the Bonnaroo Festival, has three CDs out to date, including its latest, called "Shoot the Moon."
Here are Angel Band performing "Same Boat":

Here is the video of Angel Band performing "Shoot the Moon":
K.C. Clifford's career has been a struggle in overcoming personal demons. She was the focus of a segment on the NBC reality television show "The Biggest Loser," in March 2009, when during the previous year on her own she lost more than 100 lbs. She wrote a powerful song about hunger for the Regional Food Bank of Oklahoma called "Raise Your Voice,"  and the experience has led to a series of performances at food banks across the country. She recently released her fourth album, "Orchids," and is known for her powerful, emotional musical performances.
Here is Clifford performing "The Barbie Song":

Here is the Clifford's inspiring segment from "The Biggest Loser":

The Circle of Friends Coffeehouse is a non-profit organization affiliated with Franklin's First Universalist Society. Concerts are presented in a smoke-free and alcohol-free environment at the Society's handicapped accessible Meetinghouse, 262 Chestnut St. in Franklin. Doors open at 7:30 for the 8 p.m. show. Admission is $20. Call 508-528-2541 or visit the Circle of Friends website to purchase tickets or for more information.