VIDEOS: Jake Armerding brings world-class music to Weymouth's Sanctuary Hall this Saturday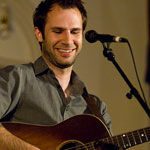 Jake Armerding, a Massachusetts singer-songwriter, fiddler, guitarist and more, will join his brother Jesse, and his father, legendary New England bluegrass phenom Taylor Armerding for a show at 8 p.m. Saturday in Weymouth's Sanctuary Hall. Listening to Jake Armerding is a journey. His original songs are crafted from personal experiences, observations, emotions and an innate musicality, borne of his upbringing.
Having watched Jake perform since he was a teen, I can assure you the evening's adventure brings with it musical twists, along with Jake's self-deprecating, wry humor. There are no boundaries. His music rarely can be defined by genre – original and traditional songs, set to his mellifluous tenor.
Adding to this mix will be his brother Jessie, whom I've seen perform percussion, and his dad, Taylor, who adds mandolin and a wide range of harmony and lead vocals. Taylor's repertoire alone, steeped in bluegrass, gospel, rock and more, adds another dimension, along with family harmonies and even more good-natured onstage ribbing.
It's been a fascinating musical trail for Jake, and his father has nurtured it and watched it blossom. In Jake's formative years, when he trained in the Suzuki method on violin, to later years when he added fiery fiddle, joining his father in New England's progressive bluegrass band Northern Lights, Taylor has watched his son find his own voice.
Jake's latest album, "Her," is a collection of love songs, reflections of feelings after his recent marriage. His website adds some insight:
"For years I've been trying to get away from love songs — everybody writes them, they're the easiest to write, all that stuff. But then I fell in love and got married, so it wasn't really an option." Singer and songwriter Mark Erelli, a longtime friend and colleague who contributed guitar and vocal tracks to the project, commented, "It's pretty great to listen to a whole record of love songs and not hear any of the usual love song cliches."
It's fair to say that Jake, who has performed onstage with Toad the Wet Sprocket, Bela Fleck, Nickel Creek and many others, is still on a musical journey of discovery. And we get to go along for the ride.
Click here for more information about Music at Sanctuary Hall and tickets. The show is held at East Weymouth Congregational Church, United Church of Christ, 1320 Commercial St. at Jackson Square, East Weymouth, MA 02189.