VIDEOS: Vance Gilbert has a new CD, but no gigs in the area until February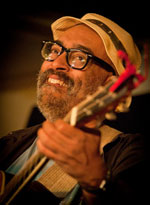 It's a bit disappointing that one of my favorite performers, Vance Gilbert, won't be back in our region until Feb. 4, 2012, when he visits the Beal House/South Shore Folk Club in Kingston, Mass.  Gilbert is among the finest *entertainers* I've seen on the folk scene. But the man needs more regional gigs!
I call him more an "entertainer" than a "folk-singer" or "singer-songwriter" because he has mastered the art of performing, interacting with his audiences, no matter how large or small, and keeping his musical act finely honed. He pays attention to his material, of course, but connects with his audiences better than most performers I've seen. And, he seems to do it so effortlessly.
The last time I saw Vance perform was this past summer at the Strawberry Park Bluegrass Festival in Connecticut, of all places, where he made a select group of bluegrass fans nearly soil themselves with laughter. Then they listened intently as he carried them on a musical journey. It's one of the few times I forced myself to put my camera down and just enjoy it all (OK, there is one photo of him from my phone, right).
The bottom line is you'll never forget a Vance Gilbert show. Never. I repeat, never. Go see him perform. I'd be surprised, if by the end of the show, your face isn't hurting from laughter and just sheer joy.
On that note, it's great to see that Vance has out a new CD, called "Old White Men" (DisIsMye Music), which is required listening. He has finally captured in the studio songs that he has been performing for some time, besides the title track, which reflects his passion for vintage aircraft:
Others include the enchanting "Dragonfly Wings" or the fantasy of a "Boy On A Train." Vance's songs offer a respite from the grind of everyday life, even when they methodically paint a picture of it. He sets a stage and the listener becomes immersed in story lines that are personal and tender:
Where the children chalk our names in the blacktop
How much more famous do we need to be?
They dance giggle and blush
Go on now, I hear your momma call
And my eyes linger too long on your face
It's like staring at the sun
And you see a good in me
The world don't seem to recall
— From "Come Here My Love"
Vance's music, set to punctuated rhythms on acoustic guitar, is often jazzy and bluesy, as he tells his stories. If you've ever seen Vance in concert, you can hear the smile in his voice when he sings a prostitute's tale in "New Year's Day at the Lion Head's Hotel – Hourly Rates." With Billy Novick on tenor sax, Gilbert takes a classic Billie Holiday-like melody and applies an urban twist in "My Bad." Here was his performance of that song last May at the Rose Garden Coffeehouse in Mansfield, Mass., where he had the audience in stitches:
I won't go through every song with you. In fact, you can hear them all, with lyrics, on his website. But if you really want a good taste, check his schedule and go hear Vance when you get the chance.
Vance Gilbert performs at the Rose Garden Coffeehouse in Mansfield, Mass. in May 2011.