VIDEO: Brockton native Bill Keith among recipients of Boston Bluegrass Union Heritage Awards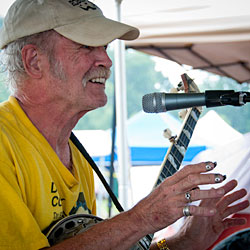 Brockton native Bill Keith, known for his innovative banjo playing and a former member of Bill Monroe's Blue Grass Boys, is among the recipients for the 2012 Boston Bluegrass Union's Heritage Awards. Named along with Keith for the Musician Award was Dedham native Jim Rooney, who paired up with Keith in the 1960s. The Music Industry winner is the Crooker Family, presenters for more than 30 years of the Thomas Point Beach Bluegrass Festival in Brunswick, Maine. The awards honor those who have made substantial contributions to furthering bluegrass music in New England, and they will be presented at the upcoming 27th Joe Val Bluegrass Festival, held Feb. 17-19, 2012, at the Sheraton Hotel in Framingham, Mass.
From the Boston Bluegrass Union:
In 1979, Pati Crooker presented the first Thomas Point Beach Bluegrass Festival over Labor Day weekend at Thomas Point Beach Park — the seaside recreation area outside of Brunswick, Maine that her parents Harry and Marion Crooker purchased in 1956.
Through 2008, Pati hosted 28 editions of the Thomas Point festival, each featuring a range of established and upcoming talent in a relaxing beachside atmosphere, with ample camping and 'round the clock jamming. Taking only two years off (she skipped year 13 for good luck, then took time another year to care for her elderly father), Crooker decided to conclude the festival's run in 2008.
She sealed a selection of memorabilia—along with all of her festival related contact information and mailing lists—into a time capsule, to be opened and appreciated by some future generation.After spending two years fundraising for the American Red Cross and caring for her ailing mother, Crooker felt the need to resurrect the Thomas Point Beach Bluegrass Festival—this time in tribute to the memory of her now-departed parents.
"My parents loved this festival," she told Bluegrass Unlimited magazine. "They were a huge part of it." With all of her contacts inaccessibly locked in the time capsule, she started again from scratch, with the aid of her son Michael Mulligan. Despite having lost much of their prior information, the 2011 Thomas Point Beach Bluegrass Festival featured their biggest pre-sales ever: A stunning affirmation of the Crooker family's tireless dedication to presenting bluegrass music to New England audiences for over three decades. The festival continues its proud return in 2012.
Bill Keith & Jim Rooney
This pair of visionary Massachusetts performers saw a place for bluegrass music amid the urban folk-music revival that swept Boston in the early 1960s.
Having met while both were undergraduate students at Amherst College, Bill Keith and Jim Rooney began in earnest as performers in 1962, when Keith was stationed at the Boston Army Base and Rooney was a graduate student at Harvard University. Entranced by the bluegrass they heard on records and by the area performances of the Lily Brothers and Don Stover, they started playing regularly at Cambridge's Club 47 (later Passim).
Rooney was the congenial frontman and vocalist, while the quiet, focused Keith was a dedicated student of Earl Scruggs's banjo style. Their shows helped to galvanize the nascent New England bluegrass scene, and their classic Prestige LP Livin' on the Mountain – which celebrates the 50th anniversary of its release this year – is a timeless document of New England bluegrass and features Joe Val on mandolin, Herb Applin on guitar, Herb Hooven on fiddle and Fritz Richmond on bass.
Beyond New England, Keith revolutionized bluegrass on an international scale, as he developed a remarkable new melodic banjo style that enabled banjo players to play fiddle tones note-for-note and subsequently inspired such groundbreaking banjo mavericks as Tony Trischka and Béla Fleck. When the two went their separate ways, they continued to contribute to the spread of bluegrass and roots music.
Keith hit the road as featured banjoist with Bill Monroe, the father of bluegrass music, and demonstrated his technique to larger and larger audiences, before leaving to work as a solo artist, sideman, author, teacher, and builder (he designed and constructed the self-contained locking tuners favored by banjo players for quick changes of tuning). Rooney managed influential roots music venue Club 47 for a two and a half years, and continued to work as a solo artist, but eventually discovered his gifts were best suited to producing other artists. He has since helmed influential and acclaimed projects by such artists as Nanci Griffith, John Prine, Bonnie Raitt, Townes Van Zandt, Hal Ketchum, Iris DeMent, and more.
Keith now lives in New York and runs Beacon Banjo Company in Woodstock, N.Y.
The Joe Val Bluegrass Festival is the premier winter roots music festival. The event features a roster of National and Regional artists across two stages, more than fifty workshops, master classes, and education programs, vendors, and much more. Visit www.bbu.org for further details.
More song samples from Keith & Rooney: