VIDEOS: Powerhouse singer-songwriters Armerding, Erelli in Mansfield on Saturday

Jake Armerding and Mark Erelli are Boston-area singer-songwriters who, in their own right, are phenomenal performers. The pair has collaborated on a few projects over the years and they also perform in the band Barnstar! But it's a treat for them to bring a duet to the stage. Saturday's show at the Rose Garden Coffeehouse in Mansfield, Mass., will be a special show, perfect because not only will you be entertained by two of the finest contemporary singer-songwriters, but it will help you forget last weekend's Super Bowl debacle.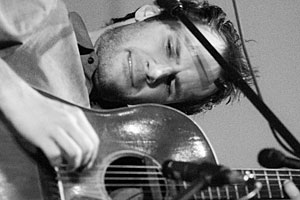 Jake is no stranger to the Rose Garden. Many regulars watched him virtually grow up on the Rose Garden stage. As a teen, he joined his father, Taylor Armerding, who had performed for many years as part of the bluegrass band Northern Lights. Jake, who plays fiddle, guitar and mandolin, has evolved into an evocative and popular singer-songwriter on the national folk scene. Though Jake easily slips back into playing bluegrass music, his solo musical projects have been personal adventures, tinged with not just folk, but infused with jazz, Latin and rock, something he calls "organic music," with tender tenor vocals.
Here is Jake performing his song "Belong to Me"

"Mandolin Man"

"The Fleece," the Me & Thee Coffeehouse

Mark emerged on the folk scene when he was 23, after earning a degree in evolutionary biology. Since the release of his first CD in 1999, his own evolution as a singer-songwriter has put him at the forefront of the folk music scene, as a solo performer and as a multi-instrumentalist sideman. He has taught songwriting and has delved into the roots of the music, writing songs inspired by Charles Darwin and even a CD of murder ballads. Though Mark's music can be personal, it varies in its stylings, as well, from western swing to lullabies. And it's not unusual for audiences to find themselves singing right along.
Mark Erelli performs "Five Beer Moon"

Special to this blog, Mark sings "Pilgrim Highway"

"Volunteers"

I'm looking forward to seeing Armerding and Erelli together. The pairing has all the makings for absolute magic in duet. They are each giving, inventive artists, steeped in a love of performance and collaboration. And each has a stage presence that will have you singing and smiling.
You can read details about them here and on each of their websites (Jake, Mark). But the proof is in the performance. I urge you to check out the fine interviewing of the Me & Thee Coffeehouse's Kathy Sands-Boehmer's quick Q&A's with these performers for additional insight into their music and songwriting. She has interviews with Mark and with Jake.
For more information about Saturday's Rose Garden's show or tickets, visit their website.