VIDEO: Song could soon be "revolutionary song" of Massachusetts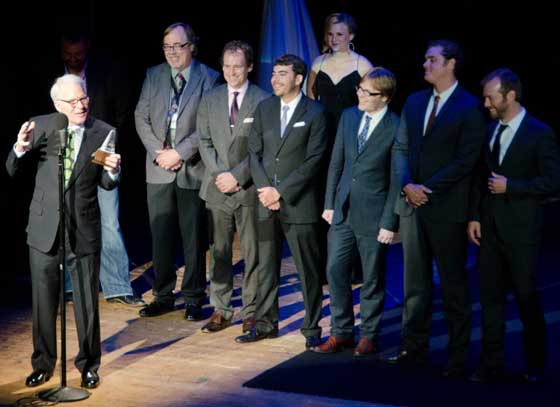 The Steep Canyon Rangers have gained in popularity since the bluegrass group teamed up with comedian/actor/banjo player Steve Martin. One of the songs that the group performs, written by Martin, has received different notice, since it is about one of the favorite sons of the Colonial era: silversmith Paul Revere. "Me and Paul Revere" has been noticed by State Sen. Richard T. Moore of Uxbridge, who submitted a bill in August to designate it as the revolutionary song of the Commonwealth. The Steep Canyon Rangers performed the song recently at the Joe Val Bluegrass Festival in Framingham, Mass.
 Click for a high definition version on Youtube
Massachusetts Senate bill S.2069 was referred to and is still sitting in committee. A hearing was scheduled for the end of January, but no vote has yet been taken. That said, we can enjoy the song nonethless. Here's a USA Today article about Martin and the song.
"Me and Paul Revere" (music & Lyrics by Steve Martin)
Late at night in the silver light, in the stables eating hay
In came a man, an artisan, and we both rode away
He whispered in my upturned ear, "it's time to get an' go"
" 'til this job's done, we breath as one, head for the outbound road"
Me and Paul Revere, oh, me and Paul Revere
I'm the horse he chose of course, me and Paul Revere
He told me that a thousand troops, were out to do their worst
"They want Sam Adams and Hancock, we've gotta get there first"
Along the way to Lexington, the Regulars drew guns
They gave chase and we set pace, those boys they were outrun
Me and Paul Revere, oh, me and Paul Revere
On the run to Lexington, me and Paul Revere
We turned North through Cambridge Town, along the mystic road
Nostrils flared and gallop strong, my legs on fire below
We got up to where they slept, woke Adams and Hancock
And they said "who's that?", "…that's Larkin's horse, she's steady as a rock"
Brown Beauty is my name, Brown Beauty is my name
Revere and I one and the same, Brown Beauty is my Name
The Grenadiers are on the move, let's fill the powder horns
How much more has that horse got, Concord must be warned
Paul Revere gave me the heel, we charged the Concord road
But we were taken prisoner, by ten men on patrol
Me and Paul Revere, oh, me and Paul Revere
I'm the horse he chose of course, me and Paul Revere
He told them that a hundred men, had spread the good alarm
"You better head away from here, for Lexington is armed"
Revere stood tall and fooled them all, …told 'em what to do
And they let him go but sadly so, they took me with them too
I never saw Revere again, I know he thinks of me
And wonders where I ended up, the night we set men free
I'm just the horse that no one knows, I'm famous though inside
Standing proudly in a field, I was Revere's ride
View the official video by Rolling Stone on Steve Martin's web site: