VIDEOS: Contest winner & Barb Phaneuf at Rose Garden in Mansfield on Saturday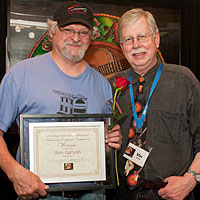 Local performer Barb Phaneuf is a powder keg in a small package. She brings to the stage a mix of wonderful songwriting, humor, musicianship and fine singing. Her ebullient presence lifts audiences, leaving them thinking and grinning from ear to ear, as she is not shy about topics like getting older, days gone by or life's quirky changes. All of this is wrapped in a musical style that varies from swing to folk ballads and lots of variations in between. And she'll be performing at Mansfield's Rose Garden Coffeehouse on Saturday night.
Phaneuf was on a fast track early in her career, performing with the very top singer-songwriters of the day. Then, life got in the way and she put music aside for a while. But when she returned, it was with a box full of wonderful new songs that she delivered in her typical cheerful and bouncy way.
Her voice is a true and beautiful instrument, by itself. But her abilities on the guitar often amaze those seeing her for the first time.
A country-folkie at heart, she sometimes slides into jazz progressions or swing chords that liven up every performance. Barb also is a playwright, having written a 15-song musical called "PURR." Not surprisingly, a steady theme thought her life has been a cat presence.
Joining Phaneuf on Saturday will be Ron Carlson, the winner of the Rose Garden's 19th annual performing songwriter contest. Carlson, from North Oxford, Mass., does what many folk singers do nowadays, personifying the struggling songwriter, performing when he can and maintaining a day job, in his case, as a paper-hanger and painter. As a musician, Carlson is a joy to hear, heartfelt songs of life and family.
Carlson mesmerized the crowd with a song romanticizing an old Ford Taurus that was passed down through three generations, then turned to his octave mandolin to tell a touching story about a tree that was dying in the backyard but, through his procrastination, it lived and then began to support creature life again.
Quiet and soft-spoken, Carlson seems to prefer communicating through his songs. He began dabbling in music at age 13 and plays numerous stringed instruments including guitar, octave mandolin, banjo, and ukulele.
For more information about the Rose Garden show or tickets, visit its website.