Videos: Garnet Rogers in area, with John Schindler opening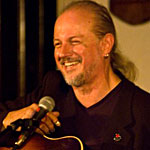 Canadian singer-songwriter, multi-instrumentalist Garnet Rogers will perform Friday night, April 13, 2012, at the Amazing Things Arts Center in Framingham. New England-based singer-songwriter John Schindler, 2006 winner of Mansfield's Rose Garden Coffeehouse's performing songwriter competition and a winner of the Boston Folk Fest contest, will open for Rogers.
If you've never seen Garnet Rogers, you owe it to yourself to enjoy his unique performances. Rogers, whose musical career coalesced early on as he toured with his brother Stan, has become a classic performer in his own right. His mix of acoustic and electric styles, melded with his wondrous baritone vocals, are memorable, and his stage banter, personal, poignant and often humorous, bring audiences into the soul of his program. His songs are literate and wonderful, descriptive and at times heart-wrenching, and it often amazes m that his solo performances have so much power.
Schindler also brings a unique style to the stage. Originally from St. Louis, Schindler's music is smart, descriptive and sometimes dark, tinged with blues and realism. On stage, his upbeat presence make him instantly likeable. His acoustic guitar playing is accomplished, enhancing his songs and supporting his warm inviting vocals.
And here's John's latest release, called "Solo:"