VIDEOS: Massachusetts siblings The Roys to host bluegrass TV show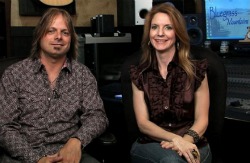 I first saw The Roys in Nashville in 2011 on the side of a bus before eventually meeting them (life-sized!) in person. The brother-sister duo of Lee and Elaine Roy, Fitchburg, Mass. natives, have been riding a bluegrass/country high for the past couple of years. Two-time Inspirational Country Music Duo of the Year, the pair has taken time away from a busy touring schedule to record seven episodes of the new International television show, "Bluegrass Mountains." In addition, The Roys will have their own TV show beginning in the fall.
The episodes were recorded in Lee Roy's Nashville studio, and debuted yesterday in New Zealand. In June, it will premiere in CMC Australia and Sky TV (U.K.). It's estimated the show will have 20 million viewers worldwide. Not bad for a couple of down-home folks from Fitchburg. The 30-minute program will feature new and vintage videos from artists like Dolly Parton, Alison Krauss and Rhonda Vincent, as well as clips by newer artists like Cumberland River Band and Carrie Hassler & Hard Rain.
"The chance to revisit some great, early music videos was inspiring," states Elaine. "And, we are in very good company as hosts," jokes Lee. "Marty Raybon and The Grascals host the first season's other six episodes."
Recently The Roys performed daily at Arizona Country Thunder for some 80,000 fans. They are now on the road, booked at festivals and fairs for the rest of the year.
The duo, spokespeople for Compassion International, a child advocacy ministry, was named 2011 Inspirational Bluegrass Artist of the Year (ICM Faith, Family & Country Awards) and were previously honored with the ICM's Duo of the Year Award in 2010 and 2009. They are featured in the 2012 Vietti Vinyl campaign and appear on 500,000 cans of the brand's Family Style Beef Stew sold in Family Dollar stores in 25 states.