VIDEOS: Bluegrass season kicks off in East Wareham this weekend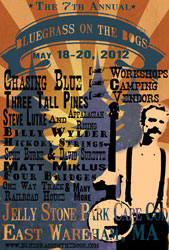 Although the first area bluegrass festival was the Joe Val festival in February, the spring/summer bluegrass season kicks off Friday night in East Wareham with the seventh annual Bluegrass on the Bogs festival. This festival, held May 18-20, has been growing each year and is great exposure for talented regional acoustic acts like Three Tall Pines, Swamp Yankees and Berklee alums Chasing Blue.
The festival isn't strictly bluegrass, offering music that is old-timey, Celtic and Americana.
Three Tall Pines:

Returning this year is Three Tall Pines, a band Performer Magazine calls "bluegrass at its best."
"The setting and the people really make this one of our favorite festivals of the summer," says Pines mandolinist Joe Lurgio.
Fresh off a headlining appearance at the Boston Bluegrass Union's Springfest, the Pines are kicking off the summer festival season at Bluegrass on the Bogs and recently were signed to perform at the Grey Fox Bluegrass Festival in July.
"It's stunning how many great bands and performers there are right here in New England," says Kristin Taylor, who, with husband Peter Nelson organizes BOTB. "We have Railroad House, Dawn Kenney, Steve Lutke, Blue Around the Edges, The Wilbas, No Spare Parts, plus we have Susie Burke and David Surette, Emma Walsh and Chuck Donnelly, Hickory Strings … the list goes on. Nineteen bands in all. We're very excited about this year's lineup."
Chasing Blue:

For more information, schedules and tickets, check out the web site.