VIDEOS: Maine singer-songwriter wins Rose Garden contest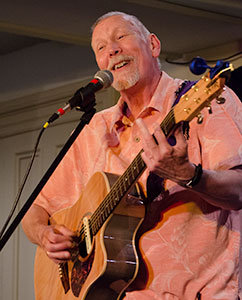 Martin Swinger, a lanky, affable man from Augusta, Maine, defeated two performers from Massachusetts Saturday night, winning the 20th performing songwriter competition at the Rose Garden Coffeehouse in Mansfield. Each of the performers played two songs before an expert panel of judges, prior to the season-ending performance from Virginia-based band The Steel Wheels.
Swinger has become good at winning songwriter contests. I saw him win the Ossipee Valley Music Festival songwriters contest last year. On Saturday night, Swinger performed two crowd pleasers: "A Little Plastic Part," the metaphoric part of any modern-day story, and the silly "Betty Boop & Buddha," with vocals shenanigans and fine keyboards solo from Ed DesJardins.
Dan Cloutier, who grew up in Hopkinton and lives in Upton, kicked off the performance with a rousing rendition of "Dark As the Night" and a story about his father called "A Pastor in Maine." Harvard's Ashley Jordan also was well-received. Introducing her guitar as "Martina," she started with an introspective song called "Liquid Words," and followed with "Don't Mess With a Songwriter," a romp about peer taunting in high school.
Here are videos of all of their performances. They were all excellent. You be the judge: