VIDEOS: Singer-songwriters return for show in Brockton on Saturday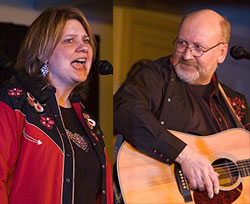 Former Mansfield residents Leslie Lee and Steve Gretz occasionally make it back into the region from their home in Rochester, N.Y.  The couple, who for 10 years ran the popular and now defunct Mozaic Room Coffeehouse in Avon, have established a strong musical presence in their New York home since moving there in 2007. They return to the Javawocky Coffeehouse this Saturday, June 9, 2012, with a new CD called "Whole Other World," a collection of original music and lovely covers. The duo's finely blended harmony vocals are uplifting, whether performing traditional pieces, folk, gospel or well-crafted songs by other singer songwriters.
Joining Leslie and Steve will be multi-instrumentalist and CD producer Seth Connelly and bass player Peter Tillotson, who joined them on their latest recording with more than a half-dozen other players. Their fourth CD includes five original songs, including "One Great Hour to Share," this year's national theme song for an interdenominational charity. Other songs on the CD were written by Leonard Cohen, Tim O'Brien, Pierce Pettis, the late Terrence Martin and local favorites Pat Wictor and TR Ritchie.
A Leslie and Steve show is marked by songs that encourage singing, and they have a loyal following. Powered by Leslie's evocative lead vocals, their harmonies are warm and inviting.
Opening for the Gretzes will be Taunton-area folk singer Tom Irving, who has opened for Brooks Williams, Danielle Miraglia, Kim & Reggie Harris, Neal & Leandra, Don White and others.
The Javawocky Coffeehouse is held at the Unitarian Church, 325 West Elm St., Brockton. Tickets are $15. For more information, call 781-718-3041, email javawockyuu@aol.com or visit the web site.