VIDEOS: NPR and festival to live stream Arlo Guthrie's Woody Guthrie celebration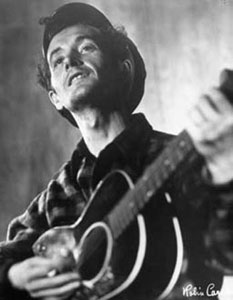 A folk song is what's wrong and how to fix it or it could be
who's hungry and where their mouth is or
who's out of work and where the job is or
who's broke and where the money is or
who's carrying a gun and where the peace is. — Woody Guthrie
NPR's Folk Alley program will live stream Arlo Guthrie & the Guthrie Family Reunion's performance celebrating the 100th birthday of his father, the legendary Woody Guthrie, on Saturday, July 14, 2012, from the Green River Festival in Greenfield, Mass.
To hear the program live online, click here.
The Green River Festival, which began in 1986 as a balloon festival, and still launches balloons, will feature more than 30 acts this year, including Los Lobos, Richard Thompson, Ozomatli, David Wax Museum, Chris Smither, JD McPherson, Winterpills and others, including headliner and fellow resident of western Massachusetts, Arlo Guthrie.
Woody Guthrie, known for songs like "This Land is Your Land" and "Pretty Boy Floyd" and many others that have permeated the American musical landscape, chronicled the American experience of the Depression and the Dust Bowl era. His songs spoke of truths of survival for the farmers and migrant workers, of riding the freight trains, of corrupt politicians and of his desire for fairness and justice. Read a complete bio.
His son Arlo continues that tradition, but has forged his own path. Arlo is known for his Thanksgiving anti-war saga "Alice's Restaurant," and is a powerful believer in the strength of the folk song to affect people's lives. His performances, whether with his family or solo, are marked by stories that are both comically told and passionate in their reflections of social ills and truths. You leave an Arlo show both entertained and moved.
The Green River festival will be held July 14-15, 2012 on the  grounds of Greenfield Community College. It features three stages, food, crafts, a dance tent, kid's activities and entertainment, along with hot air balloon rides. Click here for more information.