VIDEO: New Bedford Summerfest offers fun for the entire family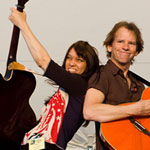 One of the wonderful things about folk music is that it is very accessible. From coffeehouses to venues throughout New England, the folk scene is welcoming and full of variety. One of New England's treats starts tonight in New Bedford. The Greater New Bedford Summerfest, July 6-8, 2012, brings with it a host of talent from the current folk circuit, plus crafts and vendors of all sorts on the cobblestone streets of the historic waterfront district. And it does so at an affordable price.
More than 50 musicians will take to Summerfest's multiple stages over the course of the weekend. The kickoff concert started tonight with wonderful legendary folk singer Peter Yarrow, along with Annalivia and The Kennedys.
The big shows occur Saturday and Sunday. Top acts on Saturday include Garnet Rogers, The Kennedys, Dala and Patty Larkin. But the numerous smaller stages offer chances to hear the performers interact, perform together and sometimes even talk to the audience in more intimate settings that permit sing-alongs. Sunday's show features a tribute to the late Bill Morrissey, Peter Mulvey, Melissa Ferrick and Catie Curtis. Check the full schedule for more details.
A pass for Saturday and Sunday is only $30 and afford access to all stages.