Videos: The Hillbenders ink record deal as they complete Northeast swing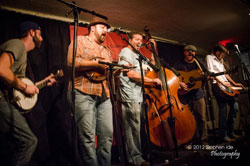 I don't often write about bands signing with record labels. But I've been following the Missouri-based The Hillbenders for a couple of years now, and this is a band that has earned the backing of a label and more. The group's progressive, and aggressive, bluegrass style leaves audiences wanting more. Their deal with Nashville's independent Compass Records will likely make that possible as the band finished up their tour of the Northeast.
The group, formed in 2008, will release it's second, much-anticipated CD, "Can You Hear Me," on Sept. 25, 2012. It promises to be a high-powered followup to 2010's "Down to My Last Dollar." Meanwhile, as the band swings through Pennsylvania then eventually back to their home, they have been ultra busy here, having performed at the Grey Fox Bluegrass Festival in New York in July, the Podunk Bluegrass Festival in Connecticut and the Saddleback Festival in Maine this month. They managed to squeeze in a few club performances, too, including the Rockwood Music Hall in New York City and Club Passim last week in Cambridge. A couple of months ago, you might have even seen them on "America's Got Talent," where they received "outstanding" reviews along with other groups who didn't make the pop cut.
Noted producer Bil VornDick is handling the group's latest project. And that's no small feat. VornDick's discography includes the likes of Jerry Douglas, Edgar Meyer, Doc Watson, Claire Lynch and the former New Grass Revival, among many others. He doesn't produce just anyone. His projects are tasteful compositions, and his albums are cohesive, memorable projects. This should help the band as it continues to develop its voice.
For those who've never heard The Hillbenders, check out the videos here, of course. The band consists of lead singer and mandolin player Nolan Lawrence, banjo player Mark Cassidy, cousins Gary Rea on bass and Jimmy Rea on guitar, and sinewy dobroist Chad "Gravy Boat" Graves. A 'Benders show is marked by anything but the traditional. Lawrence's powerful high-reaching tenor vocals are themselves an instrument, and he is unabashed in his attack on mandolin, able to go from speedy tremolos to melodic cascades of notes, when needed. Cassidy is meticulous and adventurous on banjo, adding baritone and harmony vocals, and unlike the stereotypical banjo player, he even smiles. Gary Rea offers up solid enthusiastic harmonies and powerful backbeat on bass. Jimmy Rea and Graves can be a show unto themselves. Rea dances about the stage like a rocker, and Graves finds experimental happiness as he bends backward and slides furiously on the dobro. The pair are a blast to watch, a perfect fit in this charismatic band.
I've seen this band enough to know that they can perform almost anything in a style that is uniquely Hillbenders. While they often perform powerful originals, many lyrically drawn from the bluegrass vernacular, it's not uncommon for them to play the theme from "Cheers," and, of late, music by the Beatles. Their songs delve from bluegrass, to jazz, rock, roots and even a touch of Latin soul. Their song choices point to their mentality as entertainers. While exquisite musicians, they have been developing their stage presence. They have learned what audiences like — and they give it to them in droves. Their songs have an often jaw-dropping power that reminds me of the dynamics of groups like New Grass Revival. They have learned when to be quiet, when to be loud, when to be playful and when to bring it all together in a crescendo. It  brings audiences to their feet and has grown their following.