VIDEO & CD REVIEW: Massachusetts bluegrass siblings The Roys release powerful new country-bluegrass CD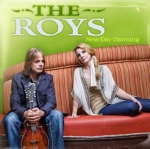 The brother-sister duo of Lee Roy and Elaine Roy, natives of Fitchburg, Mass., seem to be off to the races. After the success of their first CD, "Lonesome Whistle," the Nashville-based pair has released a seven-song EP followup called "New Day Dawning" on Rural Rhythm Records.  With all original songs co-produced with Andy Leftwich (Ricky Skaggs), the CD contains a delightfully powerful blend of down-home images and memories of a basic, family life.
Elaine seems the singer of strong, hopeful and inspirational songs. She is powerful in the title track. Her poignant vocals make a statement in the song of perseverance, "Still Standing." I enjoyed her imagery in "Living Scrapbook," Lee, meanwhile, with his evocative country vocals, wraps his baritone around several touching ballads, including "Daddy to Me," which evokes memories of a man who lived his life well and is remembered by his son for just being Dad, and in "Grandpa's Barn," a memorial to both the man and a simpler life.
The Roys are playing about 150 dates per year all over the country. They have shared the stage with George Jones, Lady Antebellum and bluegrassers like Doyle Lawson and Rocky Skaggs, among many others. Recently they were featured in a PBS special called "Pa's Fiddle: Charles Ingalls, American Fiddler" and the duo has hosted seven episodes of the "Bluegrass Mountains" TV show.
Here is a so-called "lyric video" of "Still Standing":
The pair has been recognized as the Inspirational Country Music Bluegrass Artist of the Year and have been nominated in three categories — including entertainer of the year, vocal duo of the year and inspirational bluegrass artist of the year — in this year's awards, which will be held on Oct. 18, 2012 in Nashville.