VIDEOS: Fingerstyle guitarist Claude Bourbon kicks off season at Brockton's Javawocky Coffeehouse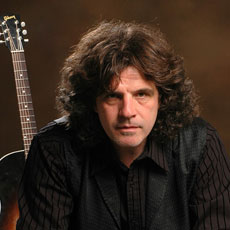 One of the beautiful things about the Boston area folk scene is that on any given evening you never know who you might hear. Javawocky Coffeehouse in Brockton offers up-and-comers as well as some established acts, this Saturday, Sept. 29, 2012, they will feature Claude Bourbon, a European performer with an effervescent fingerstyle guitar playing style. Opening for Bourbon will be area favorite Tom Irving.
Based in the U.K., Bourbon was born in France in the early 60s, but grew up in Switzerland, where he became classically trained. He has performed worldwide, fusing classical music with jazz, but melding a variety of genres into his repertoire, from blues to Spanish and Latin styles, along with western folk. His music, backed by his gravely vocals, is lively and unique, and he has drawn audiences of thousands in Europe.
Now he brings his music here, for us to enjoy.
Javawocky, at the Universalist Unitarian Church of Brockton, 325 West Elm St., will be collecting new or gently used warm clothing for the WUMB/Golden Key Society's warm clothing drive. The show begins at 7:30 p.m., and doors open at 7 p.m..  For advance tickets, visit the website, or for more information, call 781-718-3041.